King Mic 2016 Recap – West Coast Division Competition
2016《麥王爭霸》火热进行 美西赛区嘜王誕生
On September 10, 2016, we hosted the 4th King of Mic Competition on behalf of GDTV on Ch. 31.4. Located at the R&C Studios, we showcased some truly talented men, women and children.
由廣東電視臺珠江頻道主辦的2016《麥王爭霸》全球歌唱大匯今夏火熱開戰。今年《麥王爭霸》美西赛区由廣東國際美洲臺Ch31.4攜手WCETV銀視網主辦,於9月10日在R&C Studios圓滿落下帷幕。
Since its launch in 2011, King of Mic has continuously worked to find the diamonds in the rough to rebuild the pool of traditional Cantonese, English, and Mandarin singers to build on the harmony between the two cultural worlds.
        自2011年開播以來,《麥王爭霸》為粵語歌壇輸送了一批又一批實力唱將,已成為明日之星爆紅的新起點。作為圓夢的舞台,本屆麥王的首場海選就吸引了數名歌唱達人前來參加,場面火爆!
Over the course of the past few months, people from all over the nations competed fiercely to enter into the top 10 finalists for the North American division to be sent to Guangdong, China and compete with finalists around the world.
        由海選決出的粤语组十強選手在決賽中展開激烈角逐。決賽分慢歌與快歌兩輪比賽,選手們在嘜王的舞臺上盡情揮灑自己對歌唱的熱情,再次唱響了一首首經典的粵語歌曲,以真誠的表演打動了現場的每一位評委和觀眾。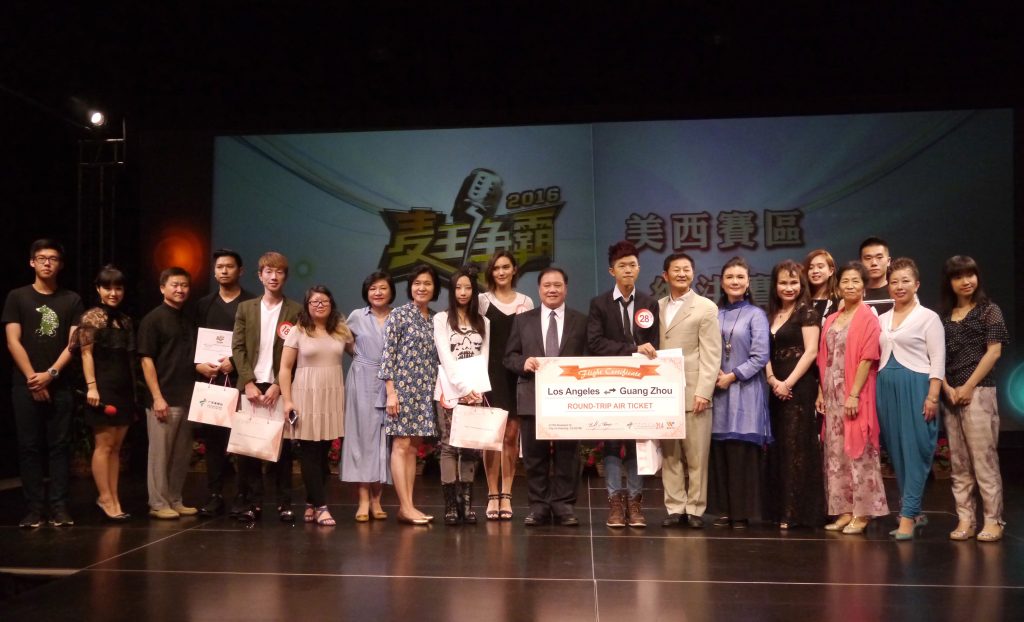 Pictured: 2016 President of WCETV, Billy Chung, judges, Kasi Zhang, Mingwei Ma, and the final contestants.
圖:2016麥王爭霸美西賽區獲獎選手,WCETV銀視網總裁、廣東國際美洲台首席代表Billy Chung,評委張卡斯,馬明偉,龍笑天及嘉賓
        經過兩輪比賽的熱烈角逐,來自洛杉磯的司徒錦聰選手脫穎而出,以脫俗的唱功赢得美西賽區粵語組冠軍,獲得了前往廣州參加50強集結賽的通行證,除了要與廣東總賽區50強選手一決高下,還將和粵港地區知名歌手和其他選秀節目的明星選手同台競技。二、三名分別由溫雅麗及Jett Kelly獲得。
        在麥王啟動前,新一季的明星陣容和賽制玩法在網上已經傳得沸沸揚揚。 《麥王爭霸》來到了第六個年頭,對於大多綜藝節目來說早已進入疲態,可麥王還能一路火下去,這歸功於節目的求新求變。
        今年仍然是"明星+素人"的PK,但玩法來了次大革新,不再是一對一的對決,而是明星與素人搭檔進行合力對抗賽,這意味著明星與素人命運捆綁。作為"隊長"的明星,要從50位素人選手中挑選出心儀的搭檔,共同闖關!已接洽的明星都是80、90年代粵語歌壇鼎盛時期的大牌歌手,其中有杜德偉、側田、薛凱琪和陳小春等,他們都是香港叱吒風雲的人物,雖然風格自成一派,但實力、名氣相當的他們從未同台比拼過,若能成行,本屆麥王將是粵語歌壇賽事一大看點。
        新一季度的《麥王爭霸》大賽現在即将在Ch31.4廣東國際美洲台播出,敬请期待。
獲獎名單:
粵語組:
冠軍:司徒錦聰
亞軍:溫亞麗
季軍:Jett Kelly