Women China Magazine (关于我们) in the United States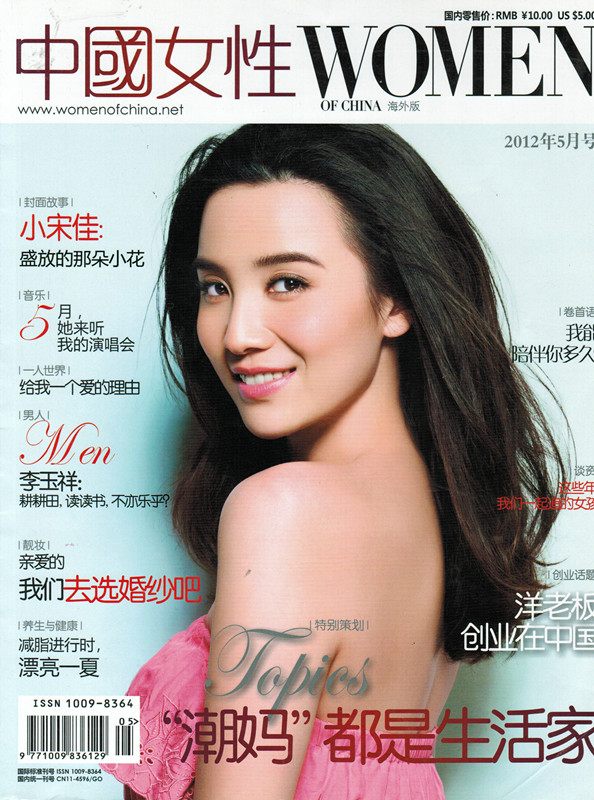 Women China Magazine 关于我们 began publishing in 1952. It is sponsored and administered by the All-China Women's Federation, the largest women's NGO in China. It remains the only monthly English language magazine with the specific purpose of introducing Chinese women to the world.
《中国女性》(海外版)杂志由全国妇联主管,由中国妇女外文期刊社主办和出版,肩负外宣使命,面向海内外华人女性读者,关注女性命运、沟通女性心灵、展示女性风采、服务女性需求。 杂志以25-45岁知识女性、职业女性为主的海内外华人女性为读者对象。
Women China Magazine 关于我们 communicates the wonder of Chinese culture and the reality of Chinese women's lives, experiences, and perspectives. The magazine publishes in-depth reports on Chinese women past and present, their concerns, their progress and achievements.
杂志以"关注心灵成长,分享创业经历,平衡家庭事业,建设幸福人生"为核心内容,分为特别策划、资讯、我们、心情、创业、生活六大内容板块,每期奉上最新的生活资讯、具有思考深度的专题策划、精美的人物故事、富有指导意义的创业案例,以及可读性强的爱情小说和名人专栏。
Feel free to subscribe to our issue produced by R&C Media Group, Inc. by calling our offices at 626-912-3388 ext 218 or by going to www.WomenofChina.com.cn.
作为一本服务于精英女性的国家级精品月刊,我们一直在探索与创新中前进,期待与你一路同行。
Women China Magazine 关于我们 – U.S. Edition
Start from 5/2016
Chinese / English bilingual
Monthly Magazine
3 – 4 pages U.S. local news, interviews and special reports
Print Magazine – 200 pcs send back to China for public relations use
Mail to all public libraries
Mail to all the China Consulate Offices
Subscription
All full color with gloss paper – high quality magazine.
E-Magazine – Free to login to read
The advertisement & local news can be click to it and watch the video.
For more information on the advertising opportunities or to receive a copy of the media kit, please feel free to contact our General Manager, Grace Chung at grace@mail.rc-studios.com or by calling her extension at 626-912-3388 ext 218.
Women China Magazine 关于我们 will be delivered to readers by mail or by personal delivery if within 10 miles of our offices. Delivery will be once a month. Thank you for your continuous support.
U.S. Edition – Exclusive Business Partner – R & C Media Group, Inc.
17755 Rowland Street, City of Industry, CA 91748 Tel: 626-912-3388 Fax: 626-912-5604 E-mail: contact@mail.wcet.com. Contact us for more information through any of these options.