Welcome back, everyone! King of Mic singing competition is back and it's in full force. We're opening up our competition to singers of all languages. Join us in this year's competition and win an opportunity to go to Guangzhou, China to participate in the finals.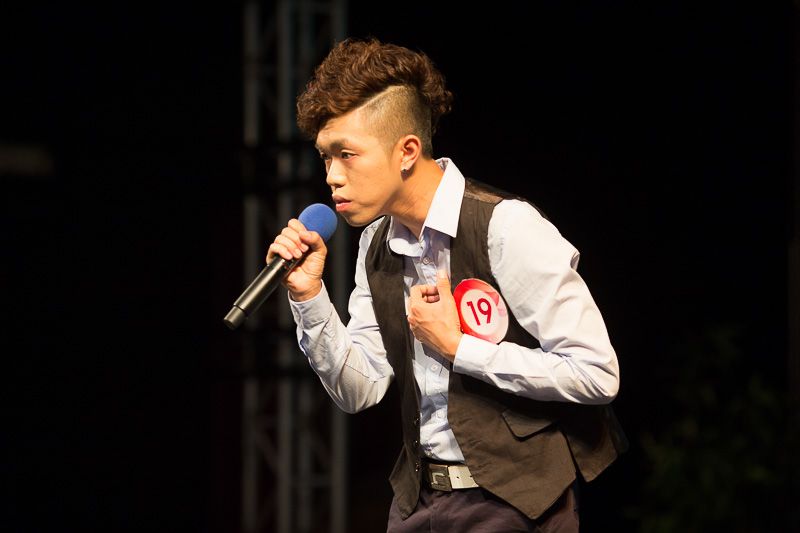 King of Mic 2016 Rules
關於《嘜王爭霸》
2016 "King of Mic" singing competition strikes again! The event objective is to rebuild the confidence and influence of Cantonese Pop Music and to encourage people to learn more about classic Chinese culture. There are five divisions in total including Guang Dong, Guang Xi, Hai Nan, Hong Kong and Macau in China, plus overseas division. Guang Dong TV America and WCETV/R&C Media Group Inc. are hosts of all the activities in U.S. west.
《2016 嘜王爭霸—全球粵語歌唱大匯》是廣東電視臺珠江頻道發起,并聯合廣東電臺音樂之聲主辦的第五屆粵語歌唱大賽。
大賽旨在重建粵語流行音樂的影響力,喚醒國人及海外華人對粵語流行音樂經典的懷念及重獲光輝的渴望。
前幾届的《嘜王爭霸》已經幫助無數擁有歌唱夢想的年輕人在歌唱、演藝道路上開創一片天地。
本屆《嘜王爭霸》美國西岸賽區的全部賽事,仍由廣東國際美洲臺 Ch31.4頻道攜手朗思傳媒集團旗下的WCETV銀視網共同主辦
參賽要求
本次《嘜王爭霸》參賽者演唱各需必須為粵語歌曲或者英文歌曲,冠軍選手回到廣東參加《嘜王爭霸》全球總冠軍決賽。
Requirements
Cantonese Division
* Be at least 18 years of age
* Valid ID and without any civil or criminal charges.
* Participants have to sing in Cantonese or English.
* During the preliminary round, participants have to sing without music.
* Application fee is 20 dollars.
粵語組
* 年滿18周歲
* 持有有效身份證件,無犯罪記錄
* 參賽歌曲必須為粵語歌曲或英文歌曲
* 海選時參賽者須清唱自選歌曲
Preliminary
* Send a 60 second vocal audio track (without music), together with filled-out registration form to contest@mail.wcetv.com before July 25, 2016 to enter first preliminary. We will announce the nominees on August 7.
* Or come in for a singing audition on August 7, 2016 at 7:00 p.m. Location: 1 Industry Hills Pkwy, City of Industry, CA 91744. Nominees will be announced on the same day.
評審辦法
* 海選及複賽評委由WCETV銀視網聯絡在音樂製作、歌唱表演等方面有一定聲望及豐富經驗的大學教授、專家或音樂事業從業者共3人
* 決賽評委共5人,其中2位將由廣東電視臺派出,其他3位由原海選及複賽評委參與。評判方法嚴格按照廣東電視臺指定標準執行
Final Time and Date:
* Time: August 7(Sunday), 2016
* Please send in your song instrumental for the finals before July 25th to contest@mail.wcetv.com labeling your name, song category(Fast, Slow, and Choice), and song name.
Scoring
Pronunciation (15%), Quality and Skill (65%), Stage Performance and Attire (20%)
Category
The Final singing competition is separated into three categories: fast song, slow song, and self-choice song. Awards will be given to First, Second, and Third place as well as Best Performance, Best Attire, and Best Voice.
Awards
U.S. West Division best three have a chance to go to Guangzhou to enter TOP 50 Singing Competition. During the competition in Guangzhou, all food, lodging, and travel expenses will be paid by Guangdong TV and contestants will receive professional singing, dancing, and staging training. The final winner will receive 500,000 RMB prize and performance contract.
美西賽區賽程設置
決賽:2016年8月7日(週日)Pacific Palm Resort Hotel
宣傳及推廣
電視媒體: Guangdong TV (GDTV) Ch31.4 (廣東話)
平面媒體:娛樂天地,僑報,世界日報,星島日報等
網路媒體:www.wcetv.com (銀視網)
www.wcetvdigital.com (銀視數碼網)
www.gdtv.cn (廣東電視網)
www.ientertainmentmagazine.com(<網絡天地 娛樂世界>雜誌網絡版)
美西賽區活動宣傳歷時3個月
僑報,世界日報,星島日報以及娛樂天地雜誌根據美西賽區的新聞發佈會時間、海選、複賽和決賽時間刊登新聞通稿、報導活動舉辦情況、挖掘活動亮點和刊登活動現場照片。
美西賽區活動期間,各電視頻道每月不少於100次電視宣傳片播出。每條宣傳片時長為30秒。GDTV-31.4頻道將播出活動花絮。 GDTV-31.4頻道將轉播美西賽區複賽、決賽活動。時長各為120分鐘。
WCETV銀視網大賽宣傳片及花絮即點即播。
娛樂天地雜誌每期預留兩頁報導大賽相關情況。大賽50強集結賽及總決賽期間, GDTV-31.4頻道將轉播大賽所有的活動報道和複賽、決賽的現場節目。娛樂天地雜誌每期預留兩頁報導大賽所有的相關情況。