R&C Studios is the first comprehensive studio in the Eastern part of Los Angeles. Constructed in 2002, it was designed by a famous designer who worked for FOX Studio. R&C Studios is housed in a 13,500 sq. ft. state-of-the-art facility, with twelve cables and license for Fixed-Satellite Service.
座落於洛杉磯的R&C演播厅,是洛杉矶東區目前最大的高科技媒體電視及影片製作拍攝場地。于2002年建成使用,面積13,500平方尺。朗思演播廳的拍摄现场堪比好萊塢水準,除了具有A級吸音的標準外,更引進專業的互動式攝影控制系統設備,專業的燈光設備,还有富有經驗的創意企劃以及衛星,有綫電視網,寬頻網傳輸等服務。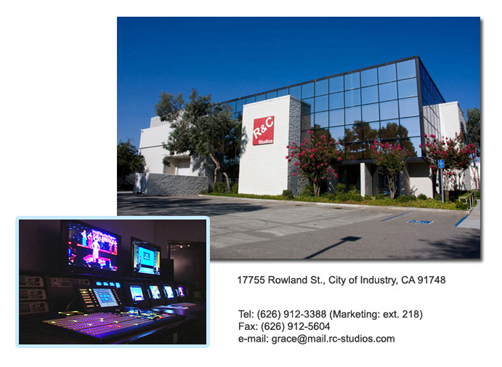 R&C Productions specializes in radio and TV commercial design and production, high quality 3D computer animation, off-line editing, and on-line post-production. R&C Productions provides market analysis research and media recommendations to help our clients target their customer base.

朗思影視製作有限公司是一家全方位的影視廣告整體企劃設計公司,提供市場調查,公關諮詢,活動策劃執行,策略企劃,廣告創意,設計,影視製作,大型舞臺節目製作,廣播電視節目製作,錄音工程製作,國際網頁設計,舞臺佈景設計及衛星廣播電視傳輸等服務。