Last month, we had the pleasure of meeting a beautiful, young artist with talents beyond our wildest dreams. A Princess Fortier, otherwise known as Miss Princess. She has a voice to die for, a face you can't help but document, and a down-to-earth personality you can't fake. Here's her story: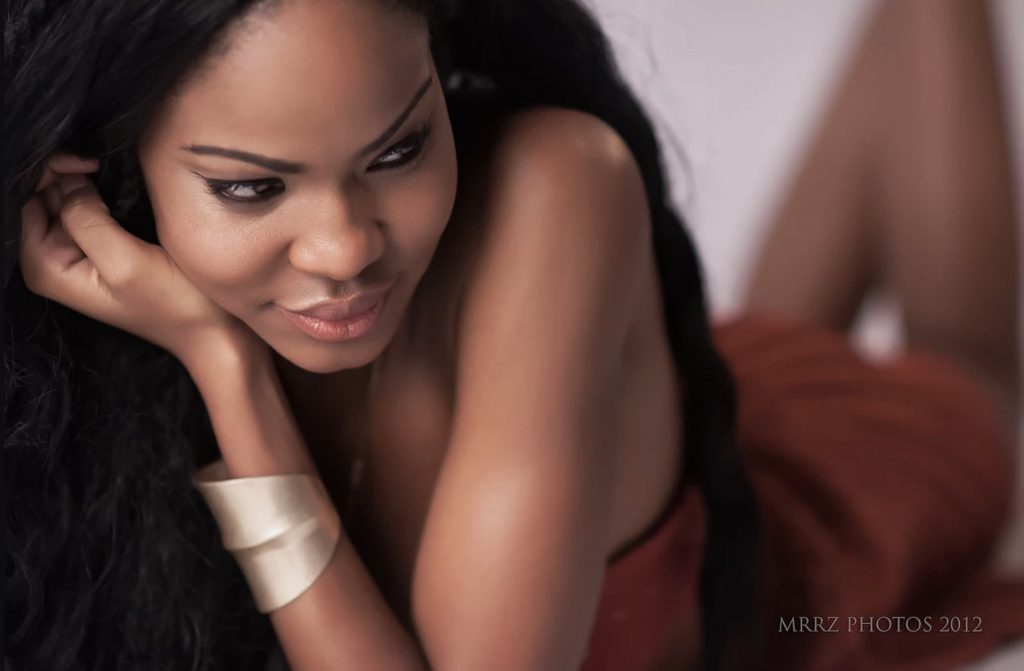 Photography by MRRZ Photos
"I started getting migraines at a young age. My neurologist couldn't identify why and couldn't prescribe anything to make them go away. When I was 18 I went to UCLA to study neuroscience so that I could get an understanding of the brain, and potentially find a cure for my migraines. My third year in school I experienced a migraine in the middle of an organic chemistry lab. I had previously scheduled a rehearsal with a local band I was in and wanted to keep my commitment.
I asked my lab partner to drive my car to my rehearsal , as I was suffering from the aura stage of the migraine which prevents you from being able to see clearly. As soon as I got to my rehearsal and started singing, my headache went away! I realized I had found my cure! And now anytime migraines come-which are far less frequent these days, I simply sing and they disappear. I started taking singing and songwriting seriously from then on. Graduated but vowed to pursue music full time straight after school.
My greatest motivator is God who has placed individuals in my path to give me just the right motivation to get to each new stage. My first music teacher, Mr. Art Coleman; my first music producer Collins Peters; and my current manager Carl Fred Martin have been among these great motivators.
I'd have to say that I've been through tough things that most artist go through— sexual harassment, shady people and situations, pay to play games, and what I've felt was race/age/religious discrimination. But the greatest hurdle by far has been getting out of my own way. I'd tell any new artist to focus on developing their craft constantly and always asking themselves how they are growing and where they want to grow. This will naturally increase their self confidence and keep them from self-sabotage, and fear of failure/success.  Stay in action to stay out of your own way."

WCETV is a television broadcasting station with station located in Los Angeles and Houston. WCETV serves the Chinese community by broadcasting GDTV's programs here in the United States as a way of bridging the Chinese culture and American culture – giving an opportunity for American citizens to see a glimpse into what China had been and how it effects who they are now. GDTV members traveled to the United States to have a news, radio, and TV delegation visit to our headquarters in Los Angeles.
Guangdong Television has programs that has the most updated news on what is happening in China and around the world, art performances and competitions that focuses on Chinese pop culture, period dramas, and more.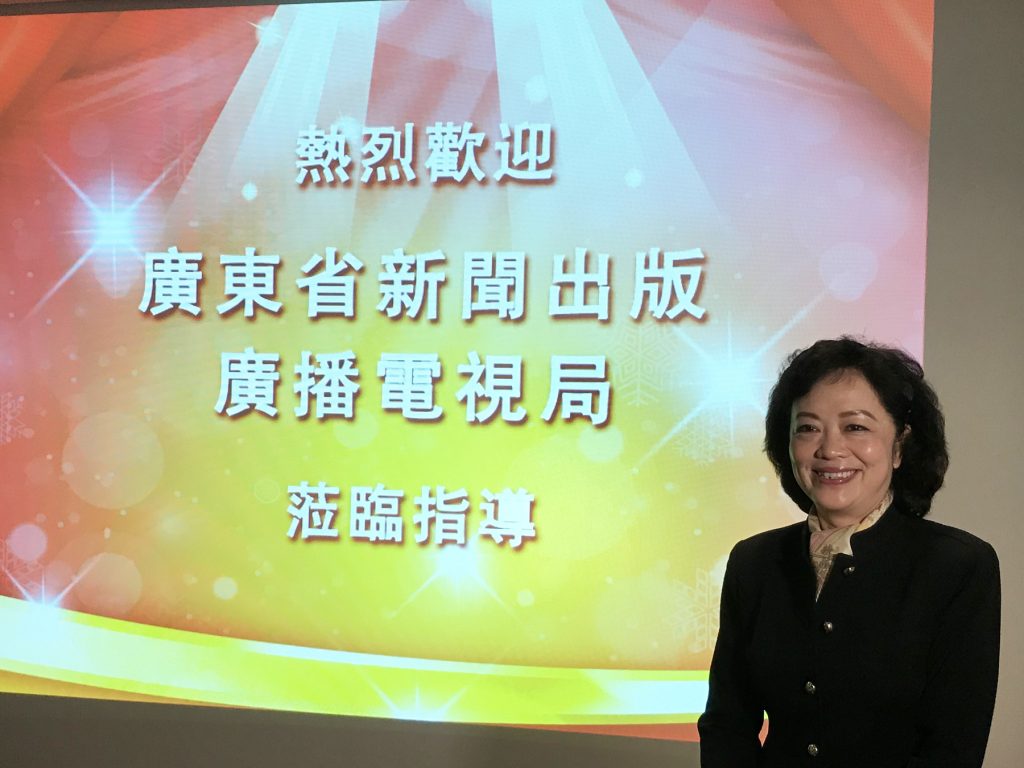 WCETV's headquarters located in the heart of City of Industry in the Los Angeles county is only piece to this running machine to make these dreams into a reality. Our CEO, Billy Chung, takes the GDTV team in the United States around the building.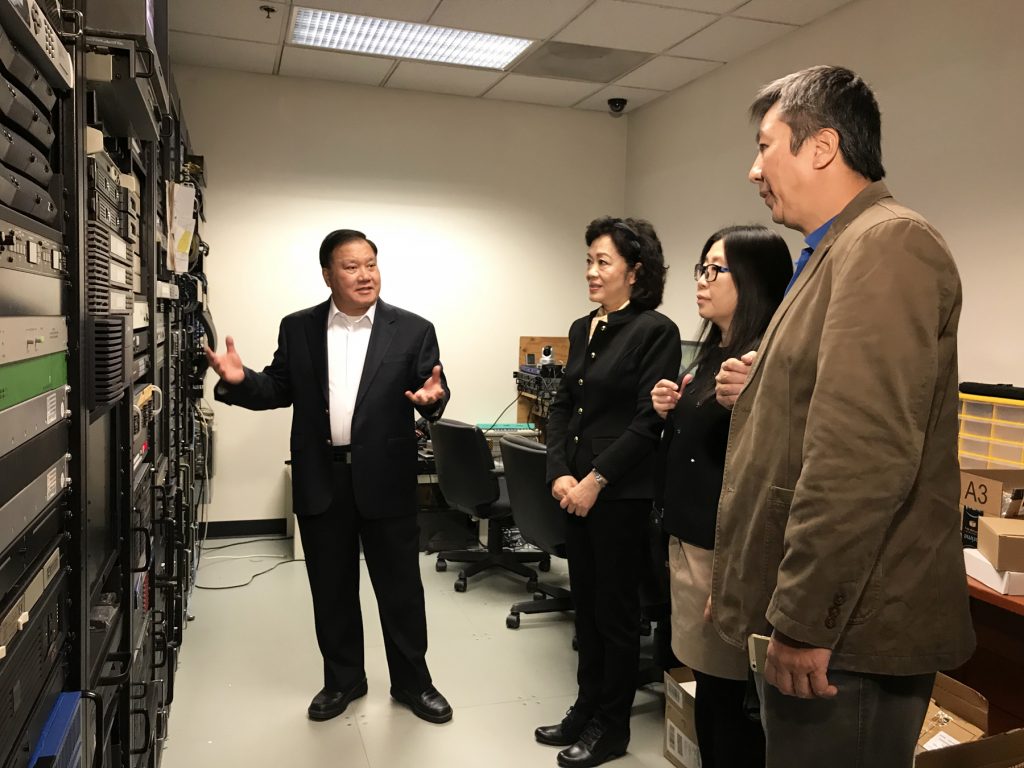 WCETV CEO, Billy Chung, gives a presentation on the Chromecast system on Android and Chromecast on , allowing programs to be streamed on the phone and projected onto any screen. Easy access to all the programs at wcetvdigital.com.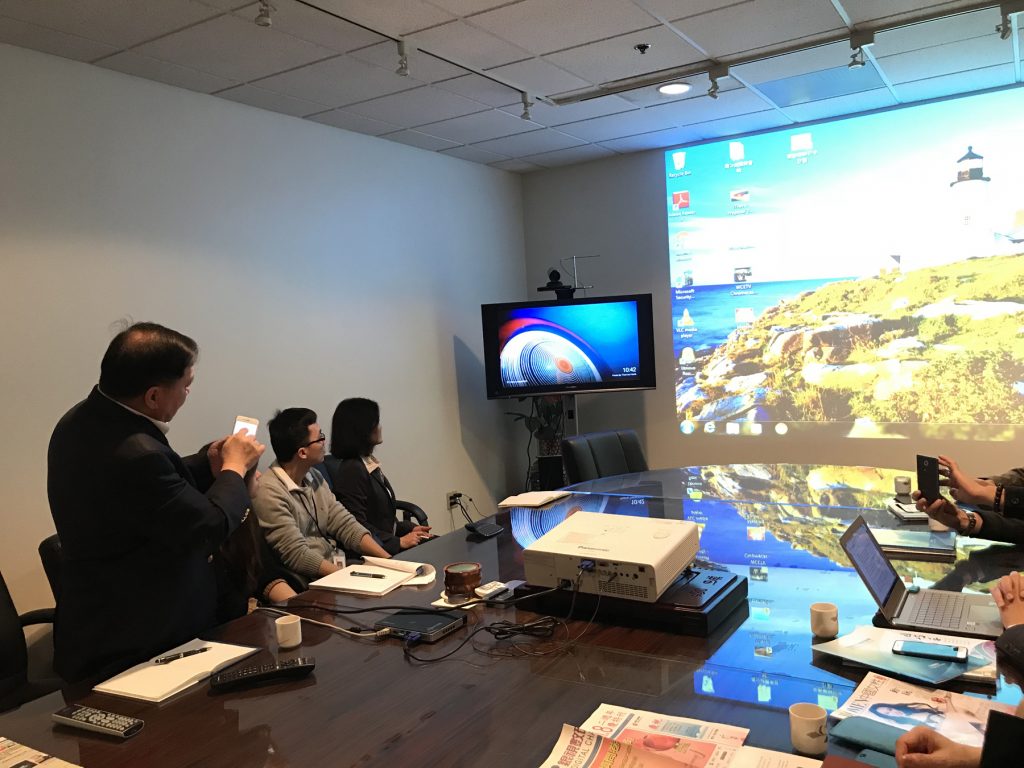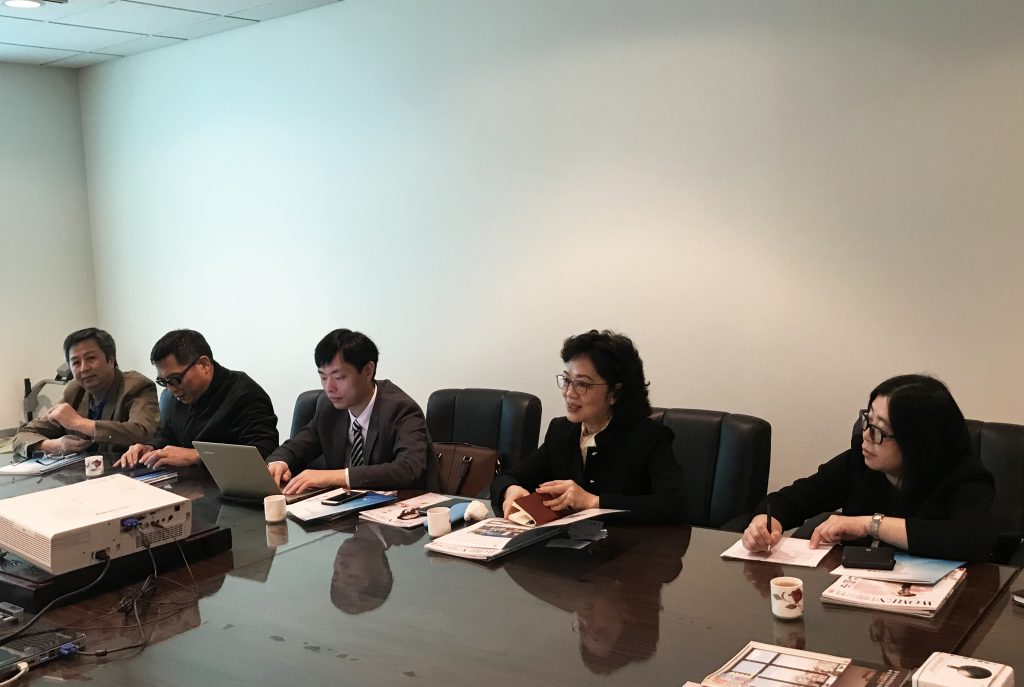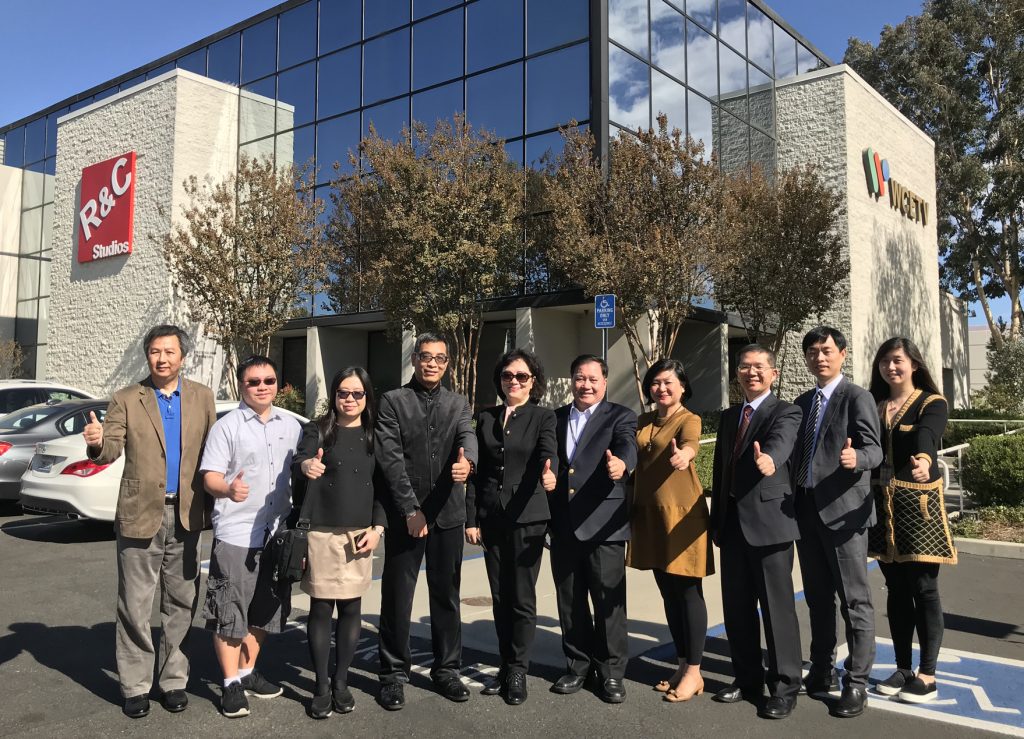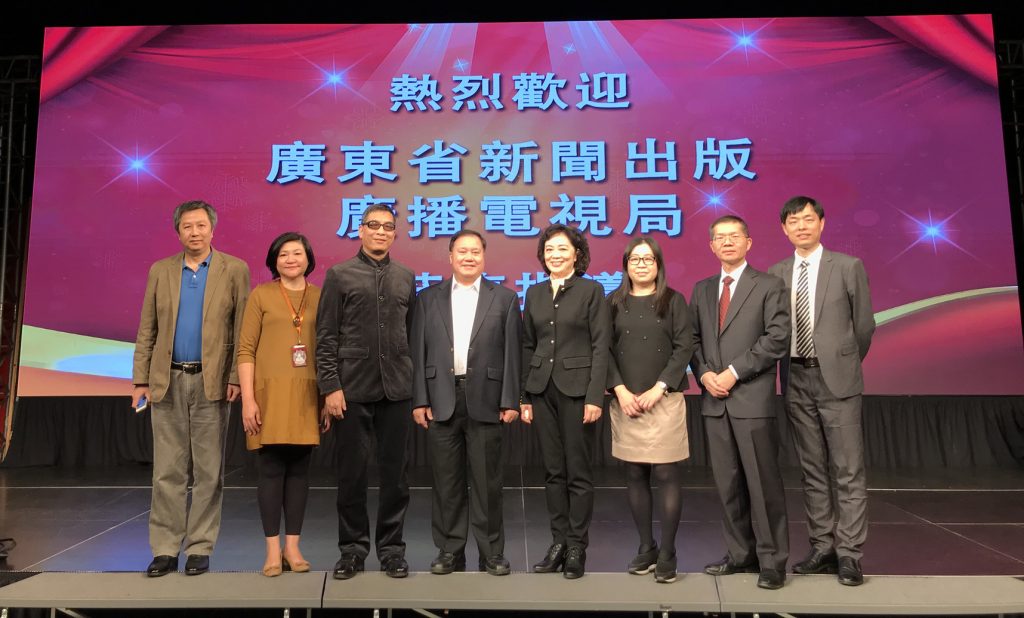 We are excited to see where WCETV and GDTV continue to grow. With added media under the R&C Media Group, Inc. branch, we see added print and digital media. The horizons are endless and R&C Media Group, Inc. does not stop at the traditional branches of media.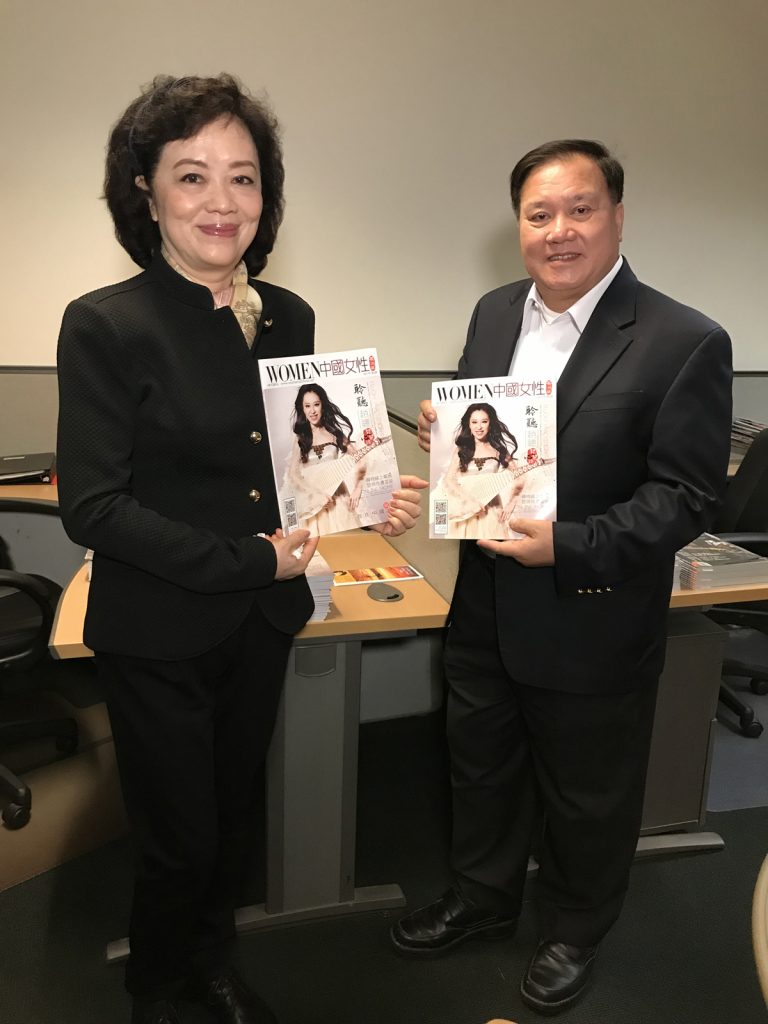 In addition to endless programs provided by GDTV, R&C Media Group, Inc. brings on Women of China Magazine. The magazine educates people around the world what the women in China endure, what the struggles and movements are within the country. Take a leap and jump into this beautifully made magazine to how the fight for women is changing in China.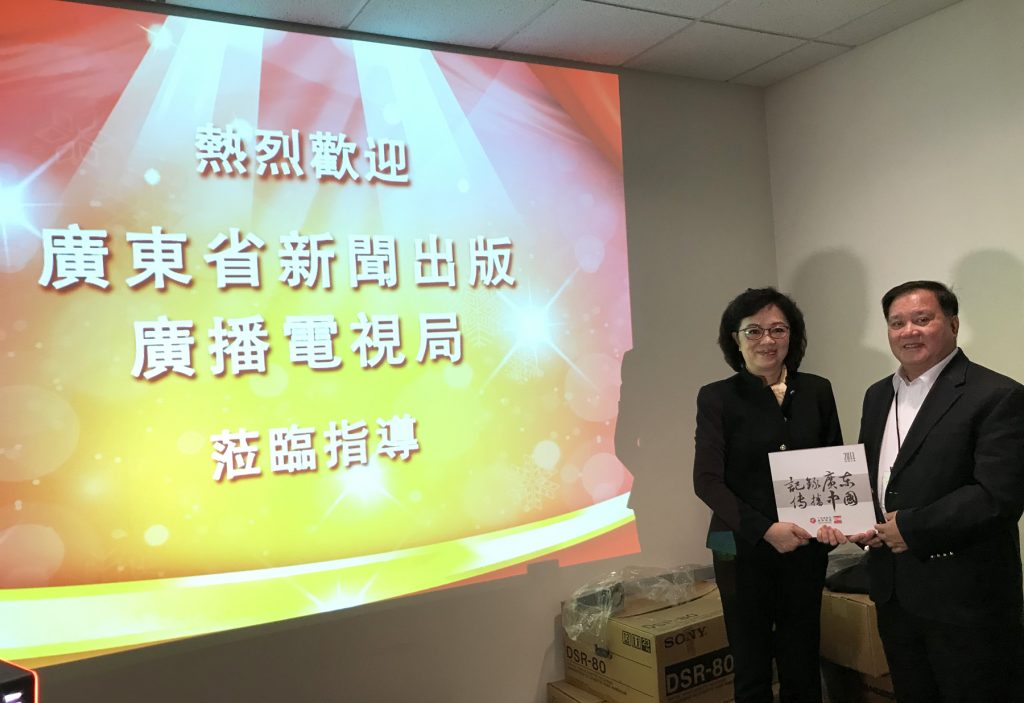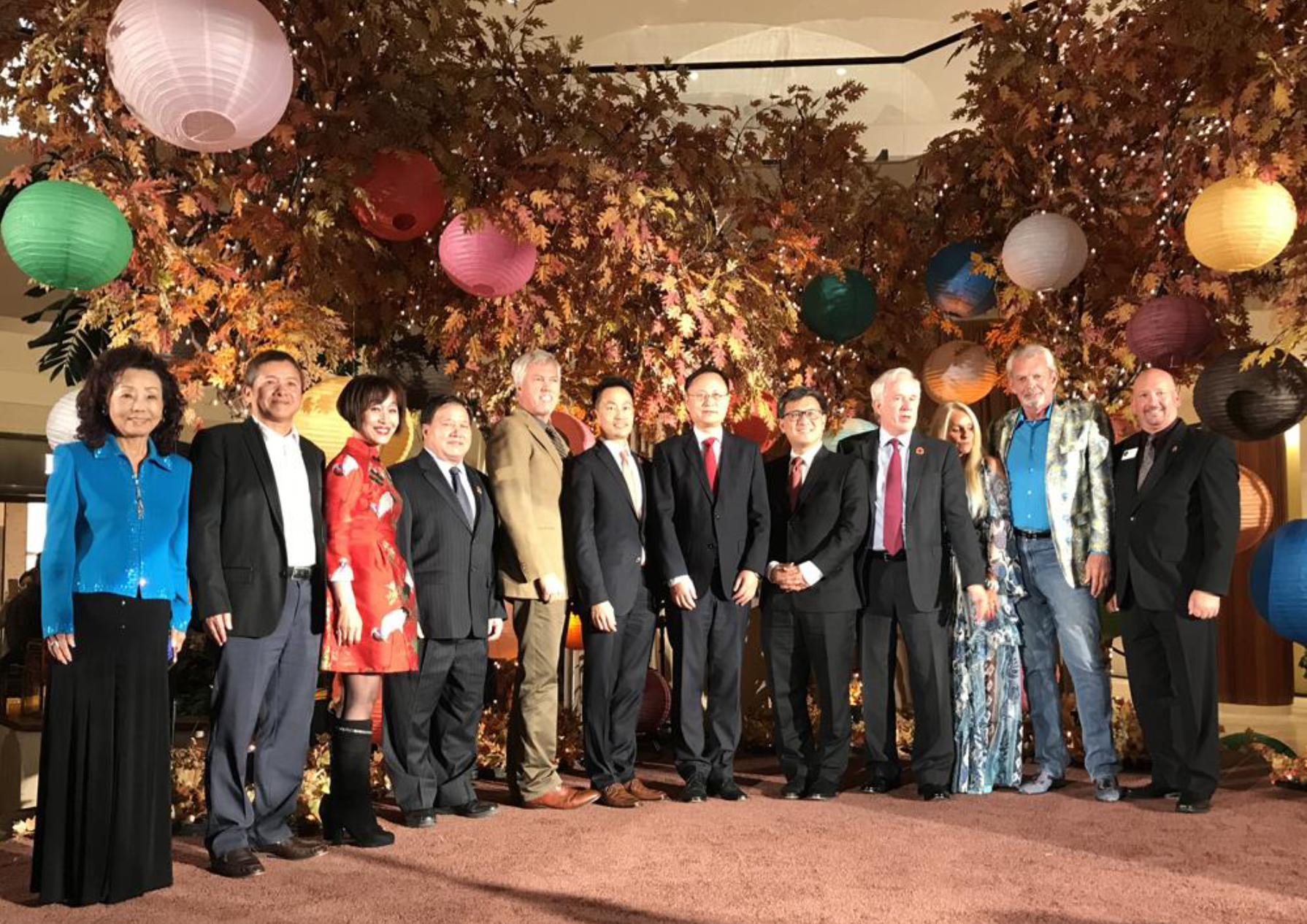 Mid-Autumn Festival Photo Exhibition in Guangdong
慶賀中秋,美麗廣東圖片展
On October 4th, R&C Media Group, Inc. joined the celebration of the Mid-Autumn Festival at South Coast Plaza in Costa Mesa, California. Performance artists from backgrounds in China, South Korea, and Vietnam put together the ultimate multicultural celebration in conjunction with the "Beautiful Guangdong" photo exhibition.
金秋送爽,是喜獲豐收的季節,美國朗思傳媒集團聯合中國廣東省委省政府新聞辦,與南海岸購物廣場,及來自中國、韓國、越南等多個國家的表演藝術家及演出團體,于10月4日晚上在南海岸購物廣場共同舉行中秋亞洲多文化慶祝活動。廣東省人民政府新聞辦公室還于當天開始,舉辦維持一周的"一帶一路,美麗廣東"圖片展。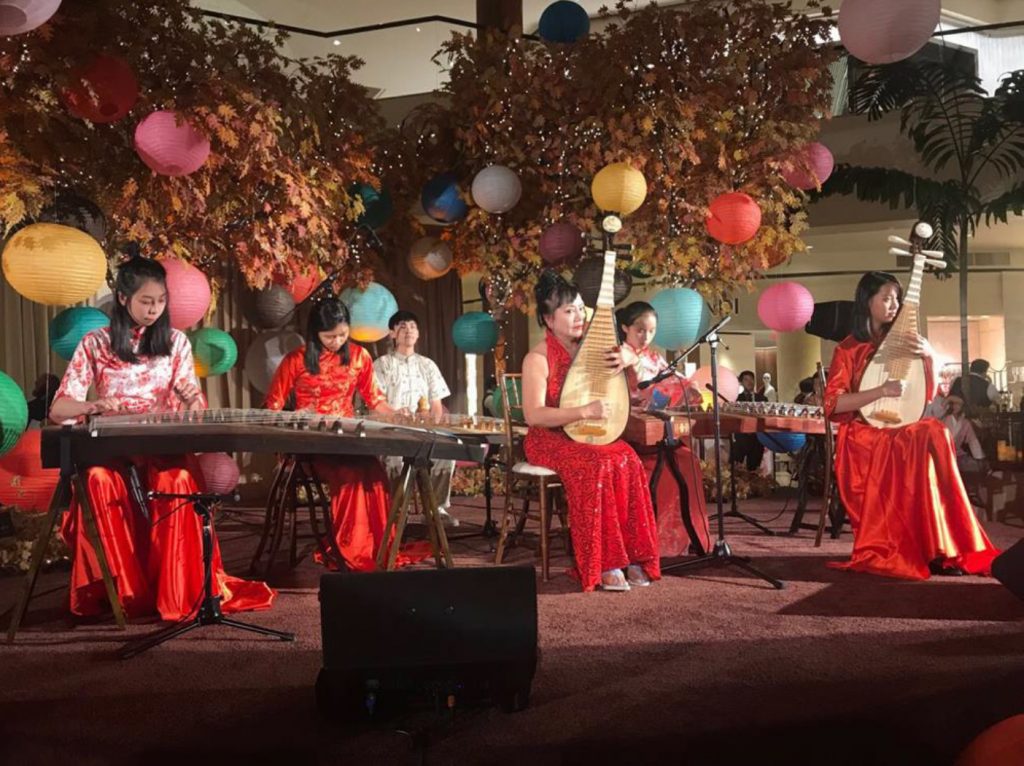 The Mid-Autumn Festival is a traditional festival based on the worship of Mountain Gods during the Shang Dynasty. Over the years, the festival became centered around family reunions and time to give thanks for a full year of harvesting. It is currently celebrated with moon cakes, which is a lotus paste filled with red bean and sometimes salted duck egg yolks.
中秋節是中國人的傳統節日,按照習俗,中國人通常會與家人團聚,賞月亮,吃月餅,并向遠在他鄉的親朋好友送去祝福和問候。活動上,到場嘉賓一起品嘗亞洲傳統風味的月餅和年糕,來自亞洲傳統民間手工藝人現場展示中國結,剪紙,捏面人等傳統中國手藝,來自中國、韓國。越南的一個個精彩的歌舞表演贏得了現場一陣陣的歡呼聲。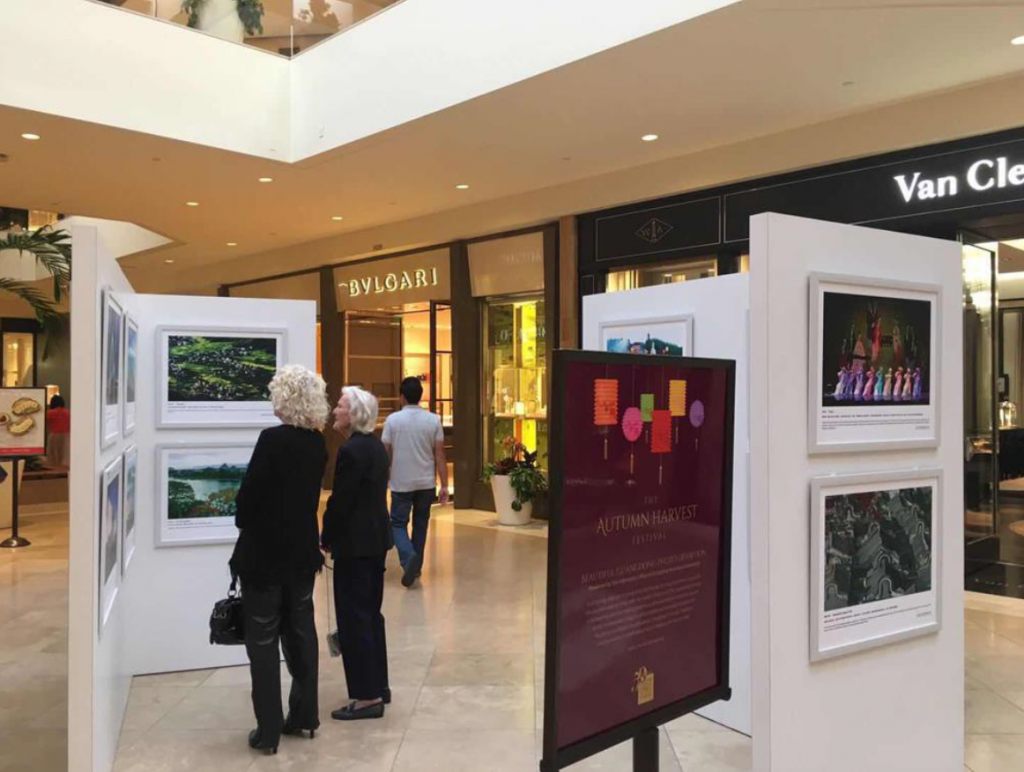 The photo exhibition was filled with gorgeous images of Guangdong, capturing the charming atmosphere of the bustling city. The images had a perfect flow of contrast between Guangdong's lively, natural scenery and the cold, industrial buildings.
圖片展上,一幅幅來自廣東的精美圖片展呈現了"一帶一路"上廣東的風光之美,人文之魅。廣東從古至今,文韻悠長,廣東的美麗,不僅在於風景的美,更有文運商道,政經人和的內涵。廣東是嶺南文明的發祥地,是海上絲之路的始發地,也是中國著名的華僑之鄉。現場觀眾展覽中體會到廣東的風土人情和萬古長青的嶺南文化。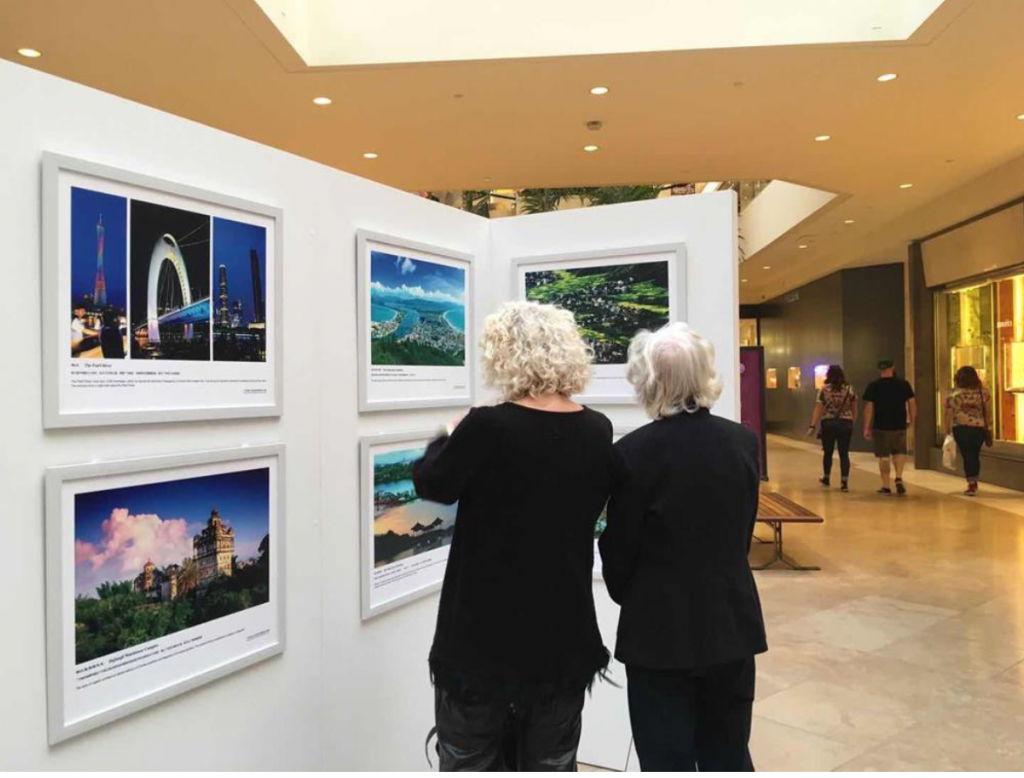 The event made for a beautiful appreciation over Chinese culture.
中秋亞洲多文化節及美麗廣東圖片展活動體現了不同文化間的相互尊重、相互欣賞、相互平等的精神,增進中美兩國人民的文化交流和友誼。
Being a company with roots from all over Asia, our love for the Chinese culture is strong and doesn't stop in our homes. R&C Media Group, Inc. takes on our traditions and Chinese mannerisms into our work. But being in an age that doesn't stop for anyone, we are constantly looking for modern ways to move forward in our business moves. Investing in ideas that will change the media world, creating simply beautiful designs, and networking across different platforms. The Mid-Autumn Festival reminded us of how important it is to bridge cultures, look to our roots, and take it with us in our next chapter. While our heritage continues to stay the same, our work does not.
So, where will we take you next?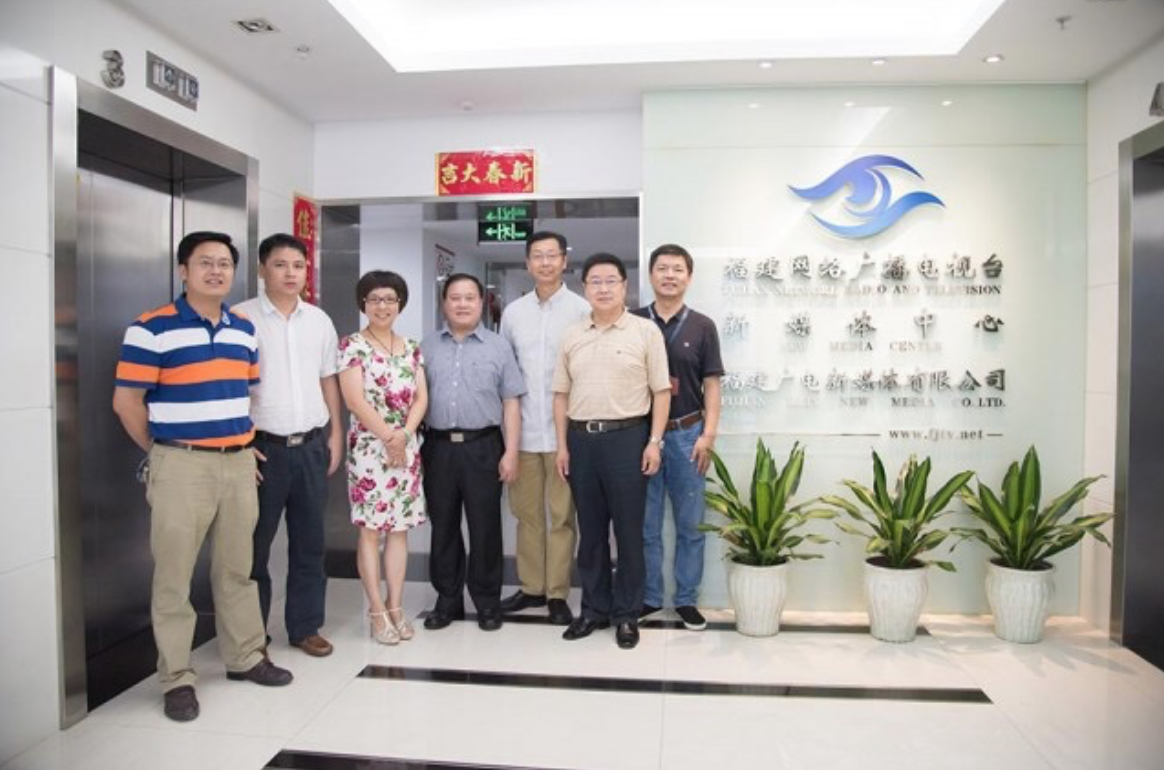 Fujian Media Group Welcomes Billy Chung
R&C Media Group, Inc. President Billy Chung meets with Fujian Radio and Television Group on July 5th, 2017. A segment from Fujian Radio and Television. View the original source by clicking here. Originally posted on July 6th, 2017.
美國朗思傳媒集團總裁Billy Chung訪問福建省廣播影視集團
發佈時間:2017-07-06
來源:福建省廣播影視集團新媒體中心
On July 5th, Chairman Xianghui Zeng made arrangements for President of R&C Media Group, Inc. to visit the Fujian Radio and Television Media Group.
7月5日,美國朗思傳媒集團總裁Billy Chung前來福建考察、訪問。集團黨組書記、董事長曾祥輝專程到Billy下榻的酒店看望。
Cultural Exchange In Action
Chairman of Fujian Media Group, Xianghui Zeng, welcomed Billy Chung's visit. He thanked Billy for his support for the partnership with Strait TV. Chairman of the board called R&C Media Group, Inc. one of the largest and most influential groups in the United States catering to the Chinese population. With this amazing opportunity to cooperate with this audience will continue to promote cultural exchanges.
曾祥輝董事長歡迎Billy Chung來訪,感謝其對旅遊頻道、海峽衛視在銀視網順利測試播出所給予的支持。曾祥輝董事長表示,美國朗思傳媒集團是美國最具規模及影響力的媒體集團之一,特別是華人受眾集中,希望雙方加強交流合作,共同推動福建電視節目"走出去"、實現國際傳播。會談中,Billy Chung表示,願進一步加強並持續推動雙方合作、密切文化交流。
At Headquarters
Billy Chung visited the headquarters of Fujian Radio and Television Media Group to meet with the leaders and introduce himself to the various departments.
7月6日下午,Billy Chung訪問集團本部,與集團領導和相關部門負責人進行了友好交流座談。
Meeting with Fujian Board
Mr. Zhan Wang, member and Vice Chairman of the Fujian Media Group, briefed Billy Chung on the organization structure, history, and development. Participants exchanged views on local media status, ratings, programming, new media technology, and content operations.
集團黨組成員、副董事長王展向Billy Chung介紹了集團的組織架構、各頻率頻道和福建網絡廣播電視台的發展情況。與會人員就地方媒體現狀、收視率,集團節目製作情況、新媒體技術水平和內容運營現狀等方面進行了交流。
WCETV
WCETV is a collection of digital TV channels, Internet TV, IP TV, mobile television, and is a 24 hour 7 days a week option to view the programs around the world. At present, the company has become the new broadcast platform to reach Strait TV programs. The group's new media center has successfully managed program signal transmission with little to no technical issues with ratings through the roof.
美國朗思傳媒集團旗下的銀視網(WCETV),匯集數字電視頻道、網絡電視、IP電視、手機電視等,24小時不間斷將節目傳送至世界各地。目前,集團已經與美國朗思傳媒集團達成初步合作意向,在銀視網的新媒體播放平台上整頻道轉播旅遊頻道和海峽衛視的節目,並且設立福建電視節目專區。集團新媒體中心已成功解決節目信號傳送等技術問題,相關節目現已在銀視網進行了播出信號測試,收視效果良好。
Continued Success
This visit between R&C Media Group, Inc. President, Billy Chung, and Fujian Television Media Group worked together to build the IP TV integrated broadcast control platform that would build the partnership to utmost success.
座談會後,Billy Chung參觀了旅遊頻道、集團IPTV集成播控平台和福建網絡廣播電視台(海博TV)內容編輯機房。
See our last update, GDTV's 5th anniversary broadcasted in the United States by R&C Media Group, Inc. and WCETV.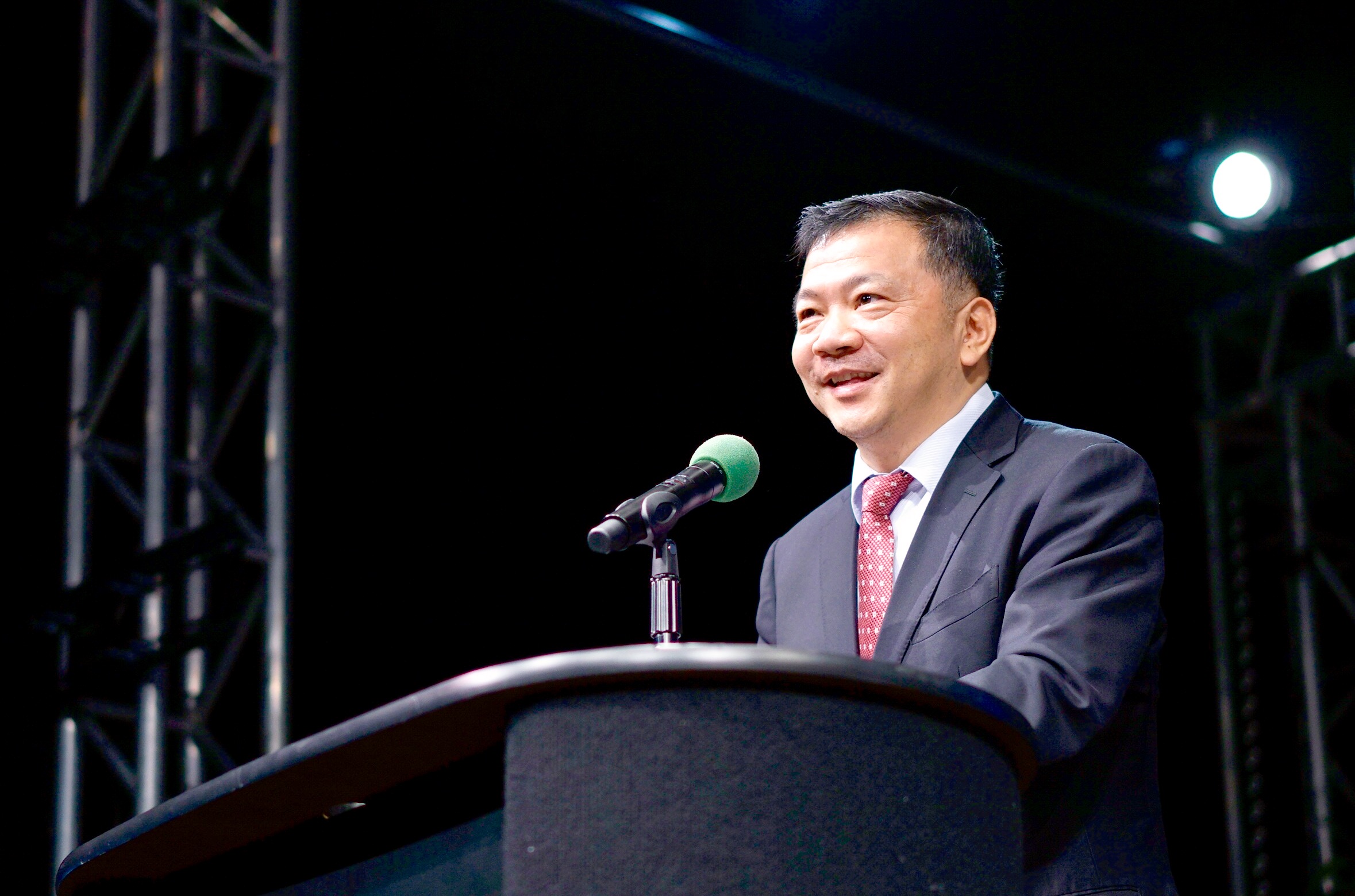 GDTV 5th Anniversary in North America
廣東國際美洲臺Ch31.4五周年曁電視劇《漂》美國版啓動儀式
On September 24, 2016, KVMD's GDTV Ch 31.4 celebrated its GDTV 5th Anniversary airing in North America. With the support of the viewers, the amazing team at GDTV that has entrusted us, and the family we have here in our studios has helped us to be who we are today. Our President, Billy Chung, spoke on how thankful he was to be part of this adventure and innovative team to bring the long, prosperous culture of China to the United States of America.
2016年9月24日,KVMD Ch31.4廣東國際美洲臺五周年慶於洛杉磯朗思傳媒的演播廳里隆重舉行。眾多政要、僑領、廠商客戶、忠實觀眾等嘉賓蒞臨表達祝賀之意。廣東國際美洲臺慶典活動上,廣東省委常委、省委宣傳部部長、廣東省對外文化交流協會會長慎海雄出席並發表講話。廣東省廣電局局長白潔、廣東廣播電視臺總編輯陳一珠出席活動,中國駐洛杉磯領事館副總領事孫魯山、美國聯邦眾議員趙美心、加州參議員夏樂柏、加州眾議員周本立等美國當地政府官員、美國朗思傳媒集團总裁Billy Chung及當地社團僑領百余人齊聚-眾嘉賓齊聚一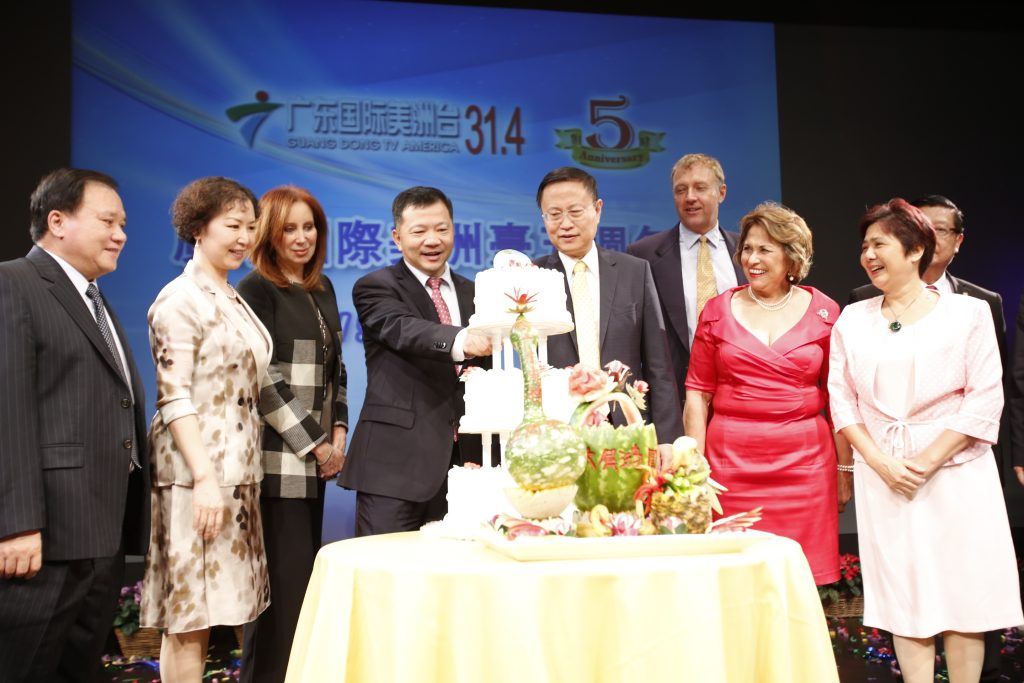 Grand Ceremony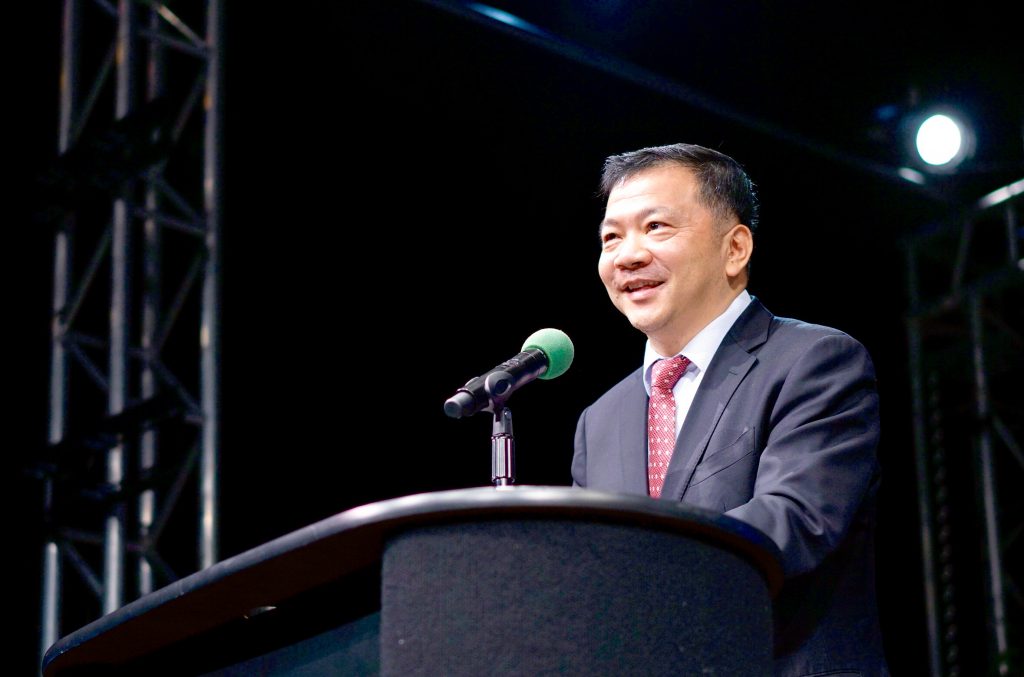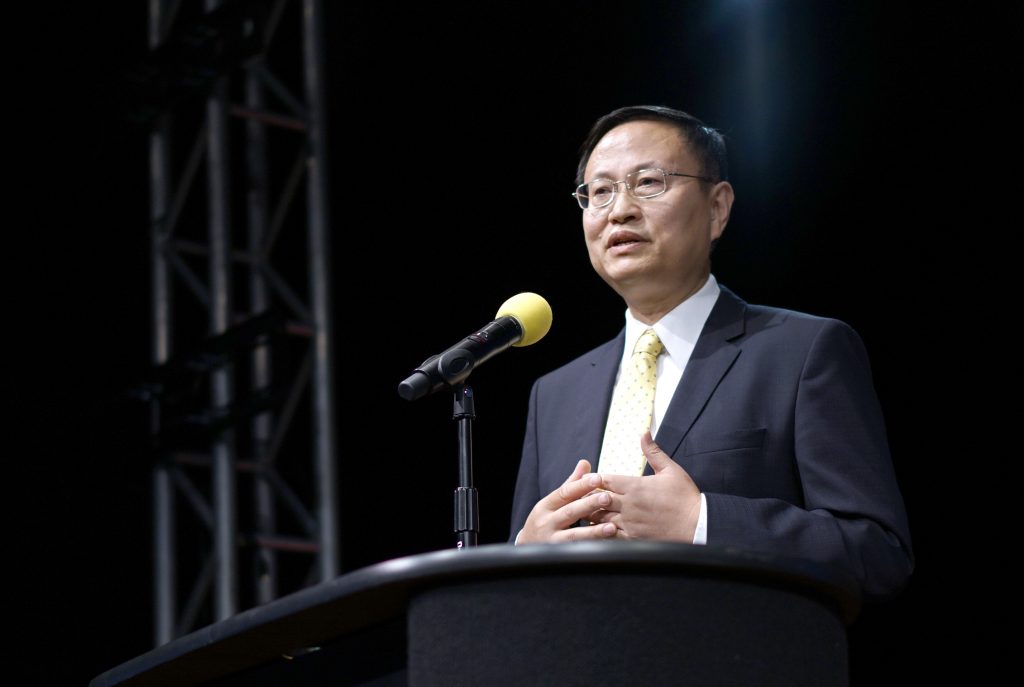 An Opening Address
-中國駐洛杉磯領事館副總領事孫魯山-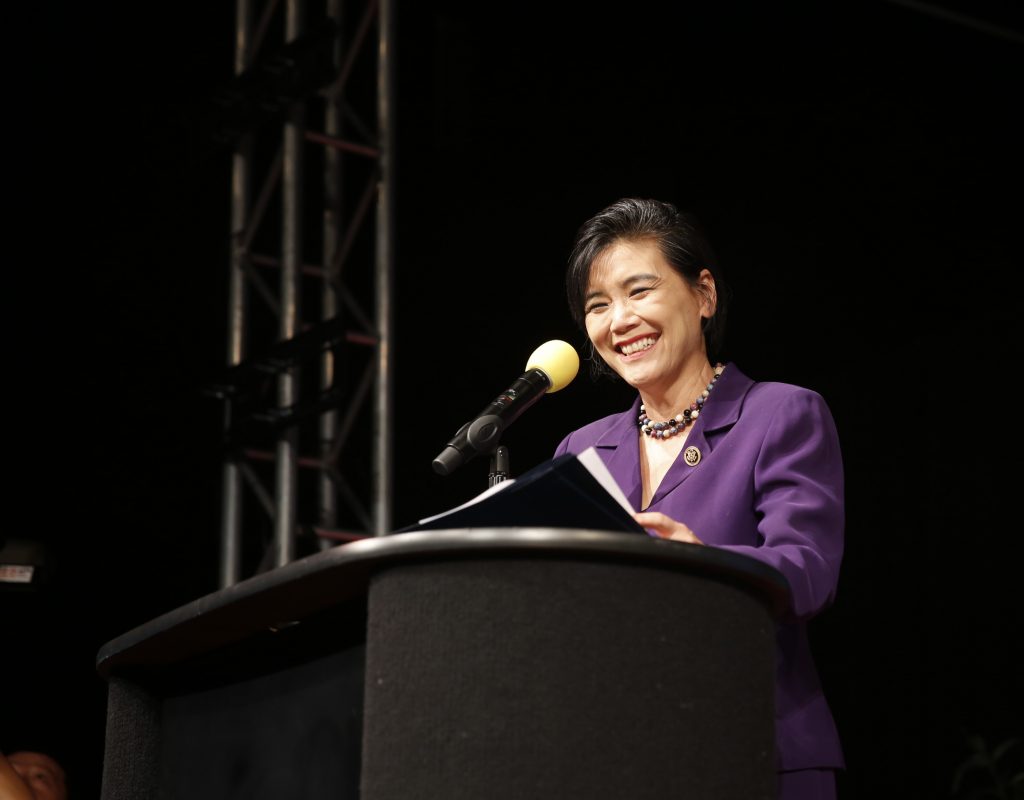 U.S. House of Representative Zhao for GDTV 5th Anniversary
-美國國會議員趙美心-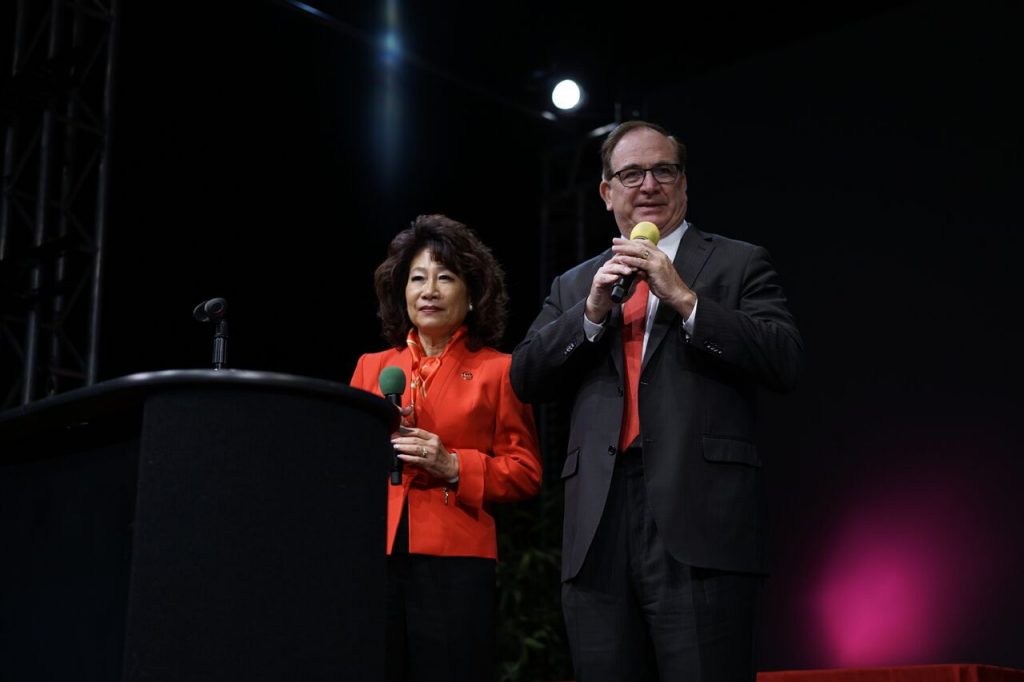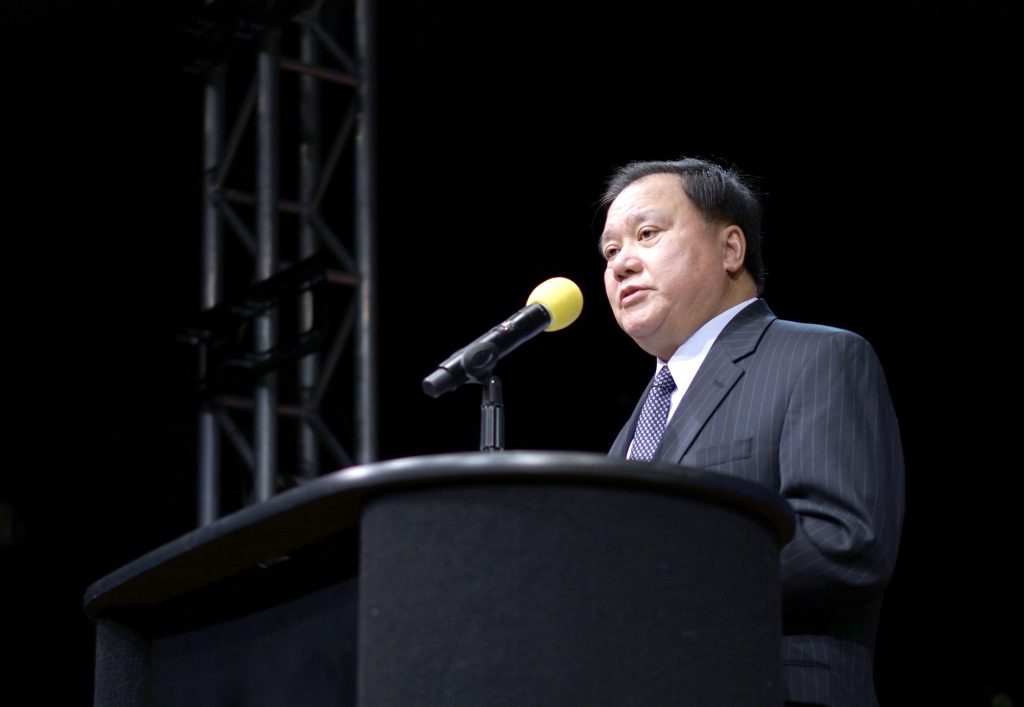 -美國朗思傳媒集團主席Billy Chung致辭-
慶祝活動中,美國聯邦眾議員趙美心及當地政府官員向廣東省對外文化交流協會、廣東廣播電視臺、廣東國際美洲台頒發賀狀,祝賀廣東國際美洲臺成立五周年,以感謝五年來廣東國際美洲臺為洛杉磯華人社區帶來的源源不絕的精彩節目,豐富了洛杉磯華人的娛樂生活。隨後,慎海雄向活動致詞。陳一珠總編輯與朗思傳媒集團總裁簽約儀式。白潔局長主持了電視劇《漂》美國版啟動儀式。
During the GDTV 5th Anniversary celebration, members of the U.S. House of Representatives and other local government officials to greet GDTV members in congratulating them for another year in streaming exciting shows for the Chinese communities in Los Angeles.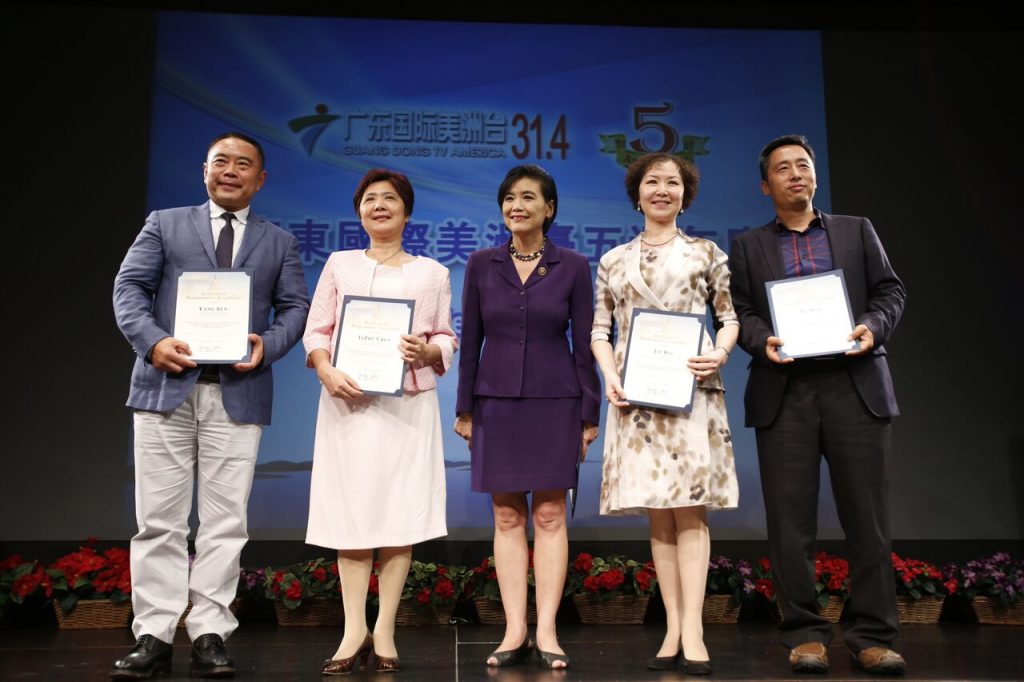 -美國國會議員趙美心頒發證書獎狀-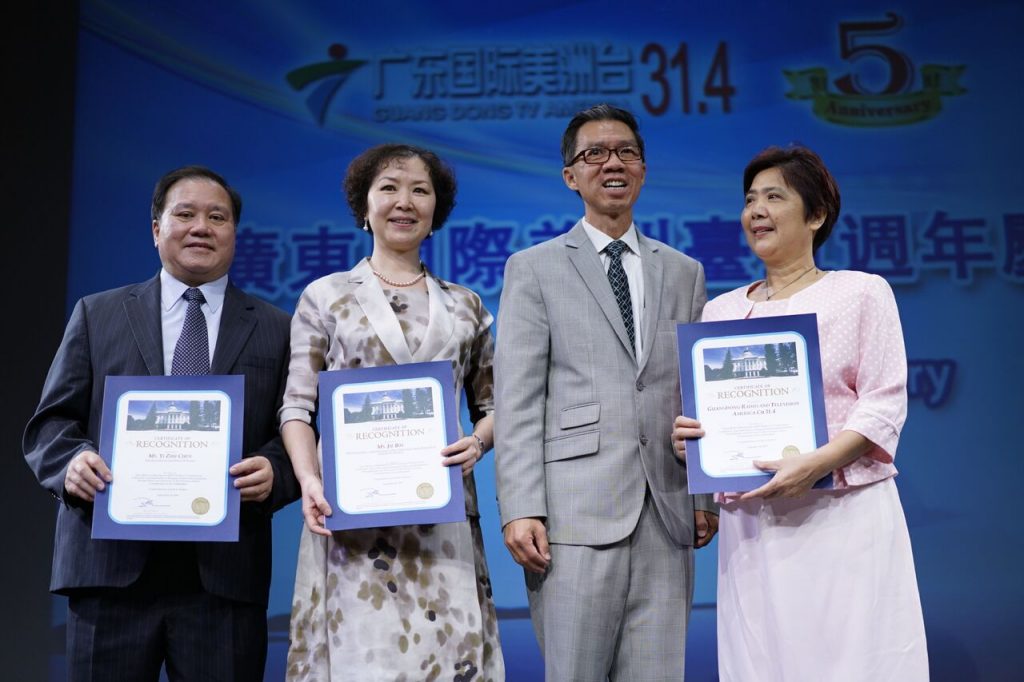 -加州眾議員周本立頒發獎狀證書-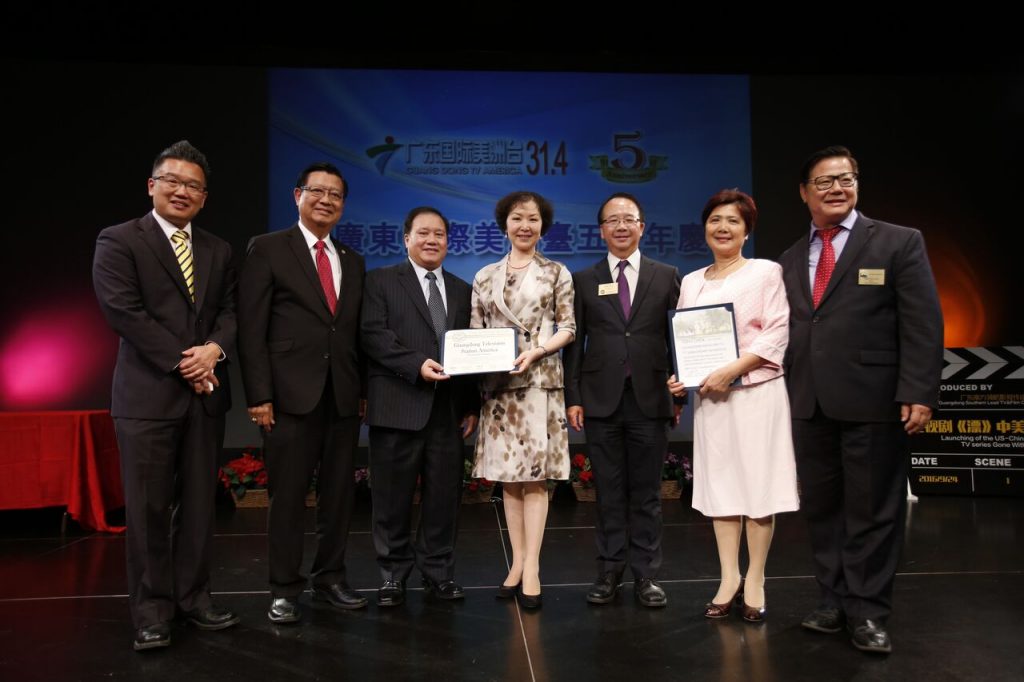 -華人區數位市長及議員頒發獎狀證書-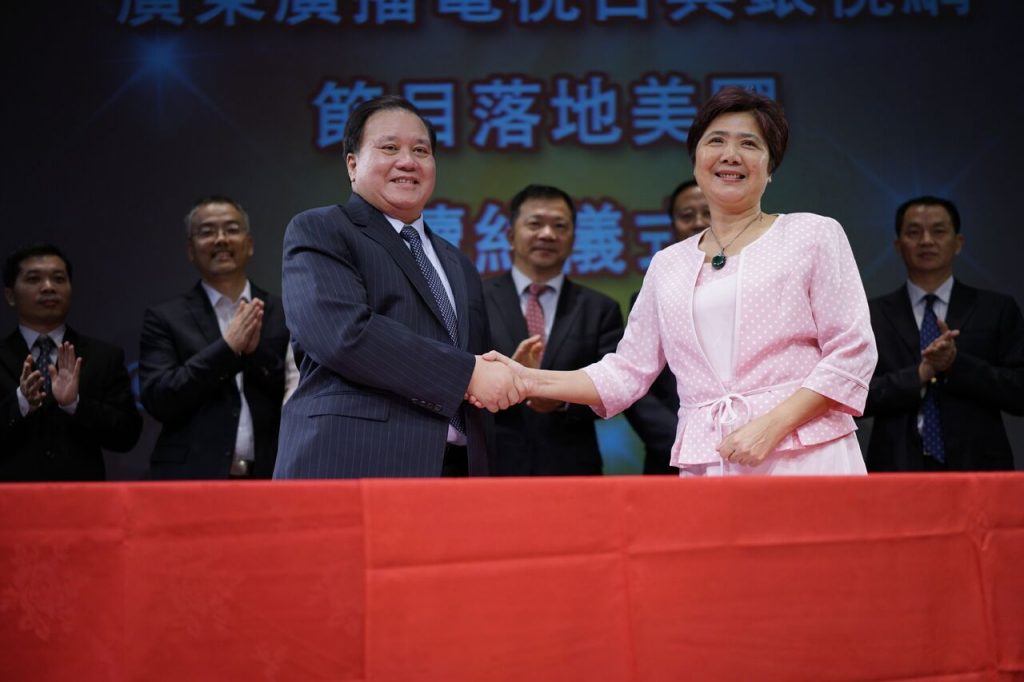 -廣東國際美洲台聯合美國銀視網成功落地美國續約儀式-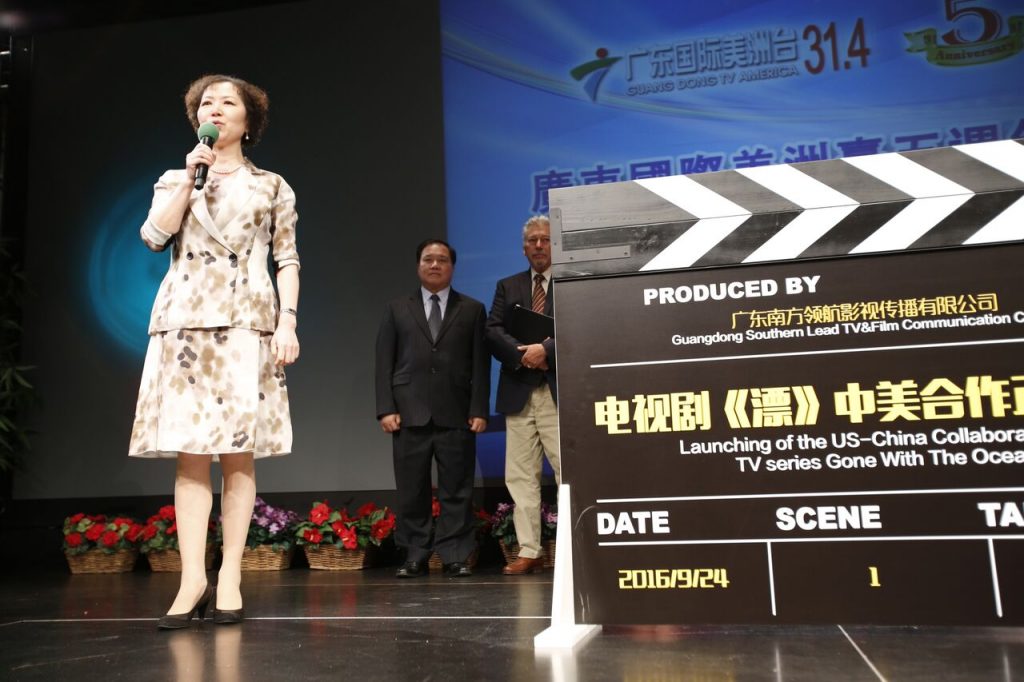 -廣東省廣電局局長白潔女士主持《漂》開啟儀式-
晚宴活動由廣東電視台著名主持人李露一,李靜文,銀視網主持人陳丹主持。歷届廣東台金牌節目《麥王爭霸》美西賽區冠軍現場助唱,五星孫雨婷模特隊的精彩表演,將活動氣氛推向高潮。
GDTV hosts teamed up with our R&C Media Group, Inc. host Chen Dan to introduce the wonderful performances throughout the night.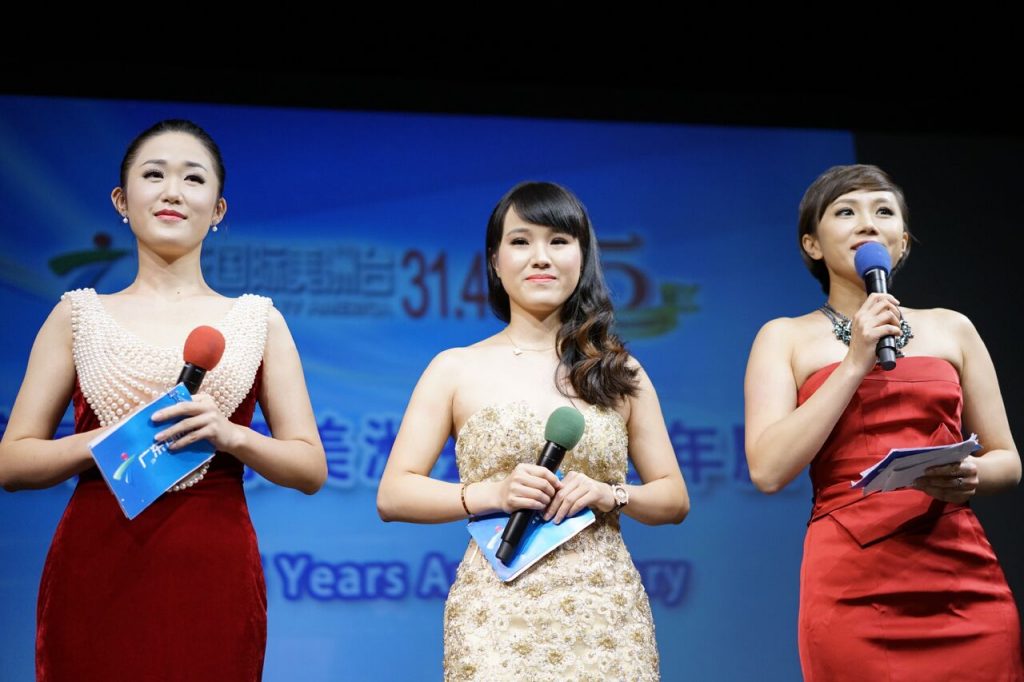 -廣東電視台主持人李露一,李靜文,銀視網主持人陳丹-
廣東國際頻道美洲臺開播五周年以來,節目覆蓋大洛杉磯地區超過1,600萬電視觀衆,全天24小時實時播放。節目以粵語為主,普通話和英文為輔,節目形式以新聞資訊,電視劇,娛樂節目及紀錄片為主,堅持弘揚嶺南文化,以特有的南粵風情在南加州掀起一陣陣收視熱潮,增進了洛杉磯華人華僑與家鄉的聯系。廣東國際美洲台根據南加州觀眾收視習慣,突出諮詢,娛樂特色,強化節目創新力度,向當地觀眾傳遞廣東乃至中國的新聞熱點、新變化、新現象。以中國最開放、經濟最發達地區的媒體視角,及時、深入、客觀報道中國最新的動態,傳遞經貿、旅遊、文化資訊,同時為美國公民在廣東、在中國的經貿、旅遊、文化藝術交流等提供最豐富、最全面、最鮮活的報道。
廣東廣播電視臺與朗思傳媒集團旗下的WCETV銀視網合作, 節目除在地面數碼無綫播放外,在網上以及手機也同步直播,將美洲臺的優質節目帶入世界的各個角落,受到了大洛杉磯地區及世界各地華人觀眾的熱烈歡迎。
頻道開播五年來,廣東國際美洲臺成功舉辦了《汽車會展國際車模大賽》《麥王爭霸》《比基尼小姐》等美西賽區活動,以發掘新人、弘揚嶺南文化為宗旨,在南加州地區引領了一次次粵語文化熱潮。還定期舉辦主持人觀眾見面會活動,促進嶺南文化與當地文化的融合,增進廣東國際美洲與洛杉磯當地觀眾互動,為中美兩國搭建起溝通的舞臺和友誼的橋梁。
廣東國際美洲臺最新節目表可至http://wcetvdigital.com/ 查看。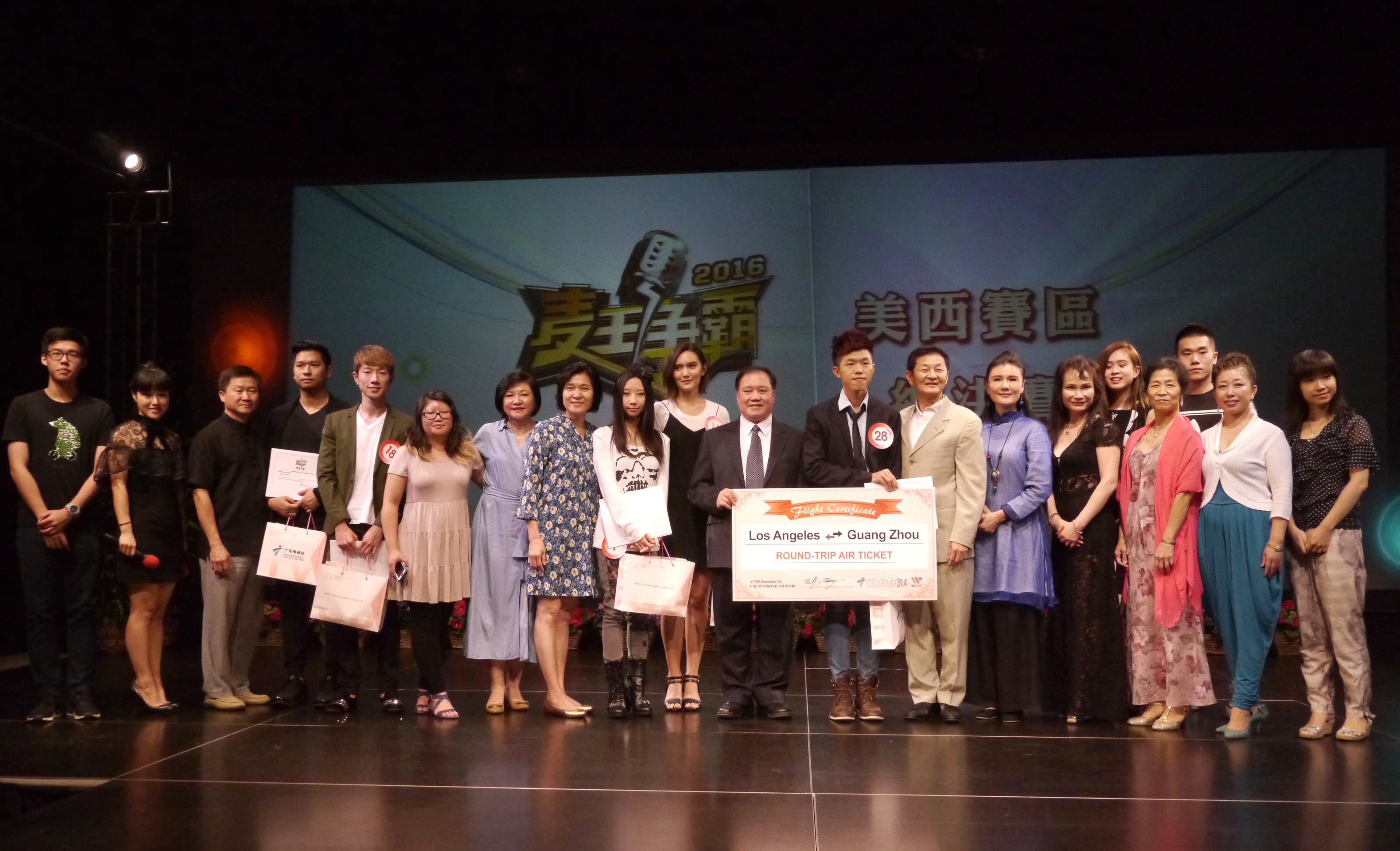 King Mic 2016 Recap – West Coast Division Competition
2016《麥王爭霸》火热进行 美西赛区嘜王誕生
On September 10, 2016, we hosted the 4th King of Mic Competition on behalf of GDTV on Ch. 31.4. Located at the R&C Studios, we showcased some truly talented men, women and children.
由廣東電視臺珠江頻道主辦的2016《麥王爭霸》全球歌唱大匯今夏火熱開戰。今年《麥王爭霸》美西赛区由廣東國際美洲臺Ch31.4攜手WCETV銀視網主辦,於9月10日在R&C Studios圓滿落下帷幕。
Since its launch in 2011, King of Mic has continuously worked to find the diamonds in the rough to rebuild the pool of traditional Cantonese, English, and Mandarin singers to build on the harmony between the two cultural worlds.
        自2011年開播以來,《麥王爭霸》為粵語歌壇輸送了一批又一批實力唱將,已成為明日之星爆紅的新起點。作為圓夢的舞台,本屆麥王的首場海選就吸引了數名歌唱達人前來參加,場面火爆!
Over the course of the past few months, people from all over the nations competed fiercely to enter into the top 10 finalists for the North American division to be sent to Guangdong, China and compete with finalists around the world.
        由海選決出的粤语组十強選手在決賽中展開激烈角逐。決賽分慢歌與快歌兩輪比賽,選手們在嘜王的舞臺上盡情揮灑自己對歌唱的熱情,再次唱響了一首首經典的粵語歌曲,以真誠的表演打動了現場的每一位評委和觀眾。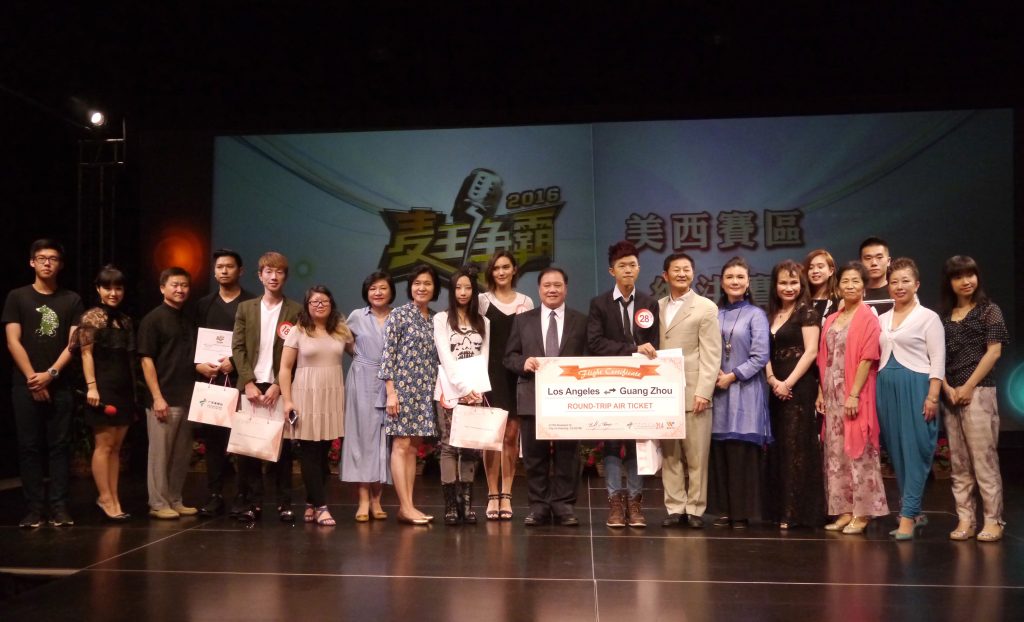 Pictured: 2016 President of WCETV, Billy Chung, judges, Kasi Zhang, Mingwei Ma, and the final contestants.
圖:2016麥王爭霸美西賽區獲獎選手,WCETV銀視網總裁、廣東國際美洲台首席代表Billy Chung,評委張卡斯,馬明偉,龍笑天及嘉賓
        經過兩輪比賽的熱烈角逐,來自洛杉磯的司徒錦聰選手脫穎而出,以脫俗的唱功赢得美西賽區粵語組冠軍,獲得了前往廣州參加50強集結賽的通行證,除了要與廣東總賽區50強選手一決高下,還將和粵港地區知名歌手和其他選秀節目的明星選手同台競技。二、三名分別由溫雅麗及Jett Kelly獲得。
        在麥王啟動前,新一季的明星陣容和賽制玩法在網上已經傳得沸沸揚揚。 《麥王爭霸》來到了第六個年頭,對於大多綜藝節目來說早已進入疲態,可麥王還能一路火下去,這歸功於節目的求新求變。
        今年仍然是"明星+素人"的PK,但玩法來了次大革新,不再是一對一的對決,而是明星與素人搭檔進行合力對抗賽,這意味著明星與素人命運捆綁。作為"隊長"的明星,要從50位素人選手中挑選出心儀的搭檔,共同闖關!已接洽的明星都是80、90年代粵語歌壇鼎盛時期的大牌歌手,其中有杜德偉、側田、薛凱琪和陳小春等,他們都是香港叱吒風雲的人物,雖然風格自成一派,但實力、名氣相當的他們從未同台比拼過,若能成行,本屆麥王將是粵語歌壇賽事一大看點。
        新一季度的《麥王爭霸》大賽現在即将在Ch31.4廣東國際美洲台播出,敬请期待。
獲獎名單:
粵語組:
冠軍:司徒錦聰
亞軍:溫亞麗
季軍:Jett Kelly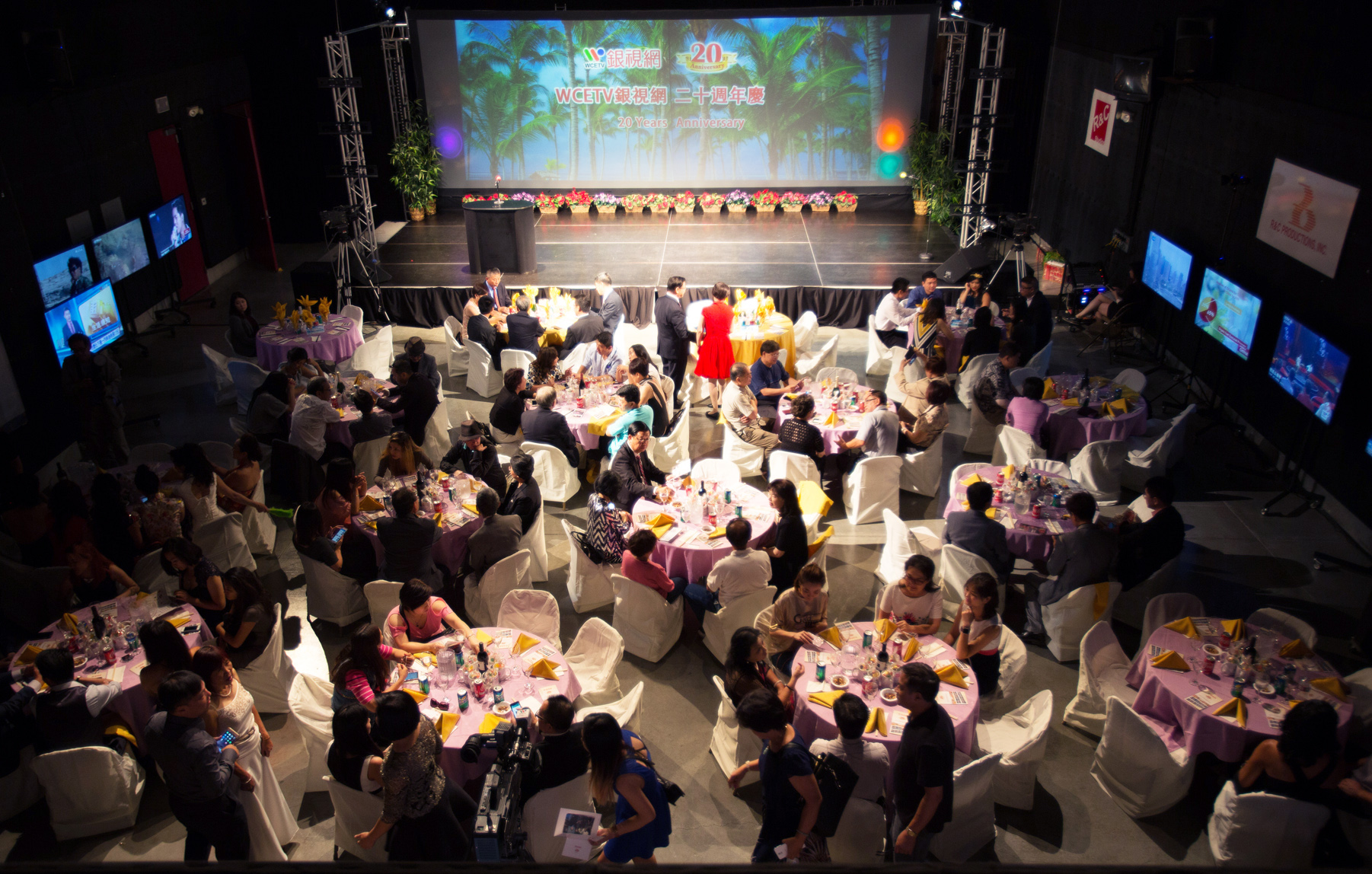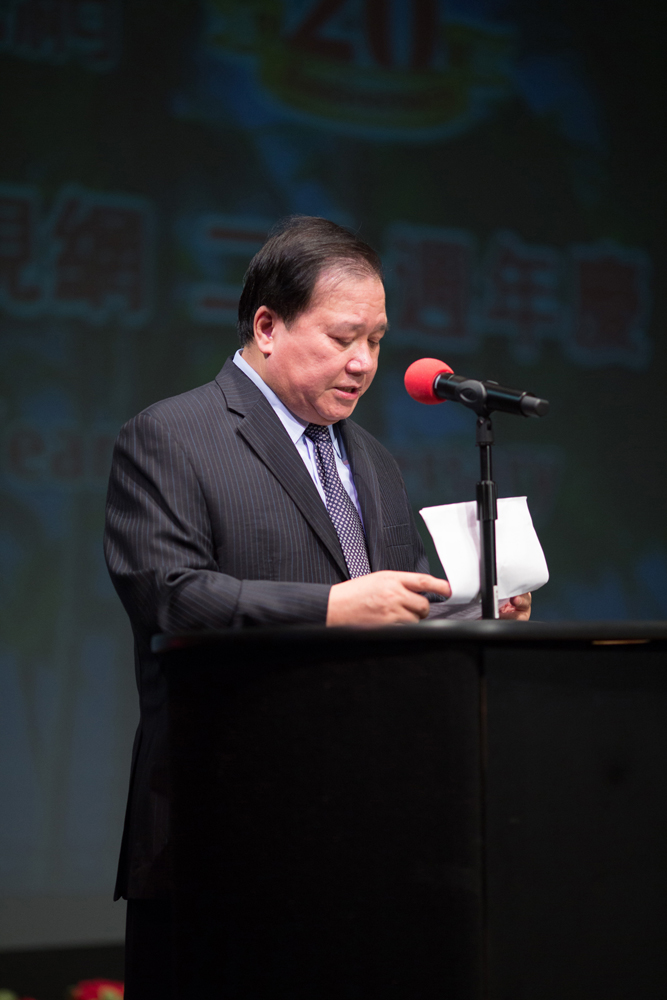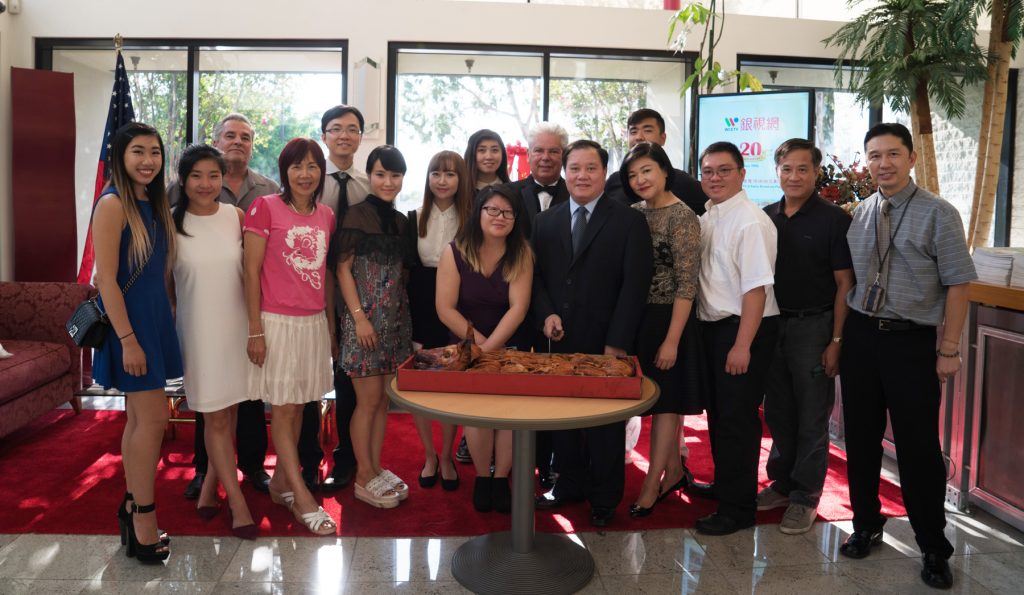 WCETV 20th Anniversary
WCETV銀視網二十周年,不斷創新,科技領先
On August 20th, 2016, we celebrated WCETV's 20th Anniversary with R&C Media Group, Inc. It has been twenty years of continuous love and support from our employees, past and present, from our media partners, and especially from our viewers. We were blessed to have this celebration with people of our past, present, and future.
         2016年8月20日,WCETV銀視網二十周年活动在R&C Media Group, Inc.美國朗思傳媒集團位於洛杉磯的演播廳里隆重舉行。眾多政要、僑領、廠商客戶、觀眾等嘉賓蒞臨表達祝賀之意。
For the 20th anniversary dinner, director and CEO of WCETV Billy Chung spoke on behalf of the entire team to share his appreciation for the hard work from coworkers and supporters. We've had the representatives of the Chinese Consulate General in Los Angeles, Senator Bob Huff, Taipei Office of Culture project leader, and Sophie Wong to share in the celebration of WCETV's 20th anniversary. Bob Huff shared the impact that WCETV has on the community.
        銀視網二十周年活動晚宴上,銀視網總裁Billy Chung代表公司發言,向各界朋友和忠實觀眾二十年來的支持表達感謝之情。中國駐洛杉磯總領事館新聞組組長于丹,美國加州參議員Bob Huff,洛杉磯台北經濟文化辦事處新聞組組長楊國添,圣蓋博市市長廖欽和,Sophie Wong博士等嘉賓發言,祝賀銀視網成立二十周年。Bob Huff向Billy Chung頒發了感謝狀,以感謝二十年來銀視網為洛杉磯華人社區帶來的源源不絕的精彩節目,豐富了洛杉磯華人的娛樂生活。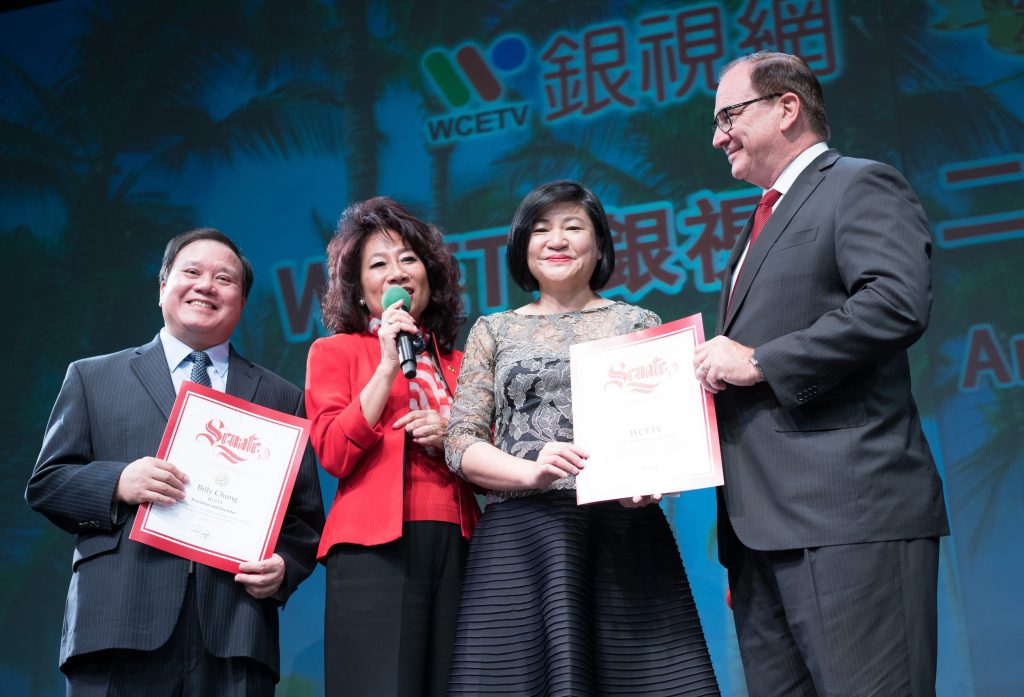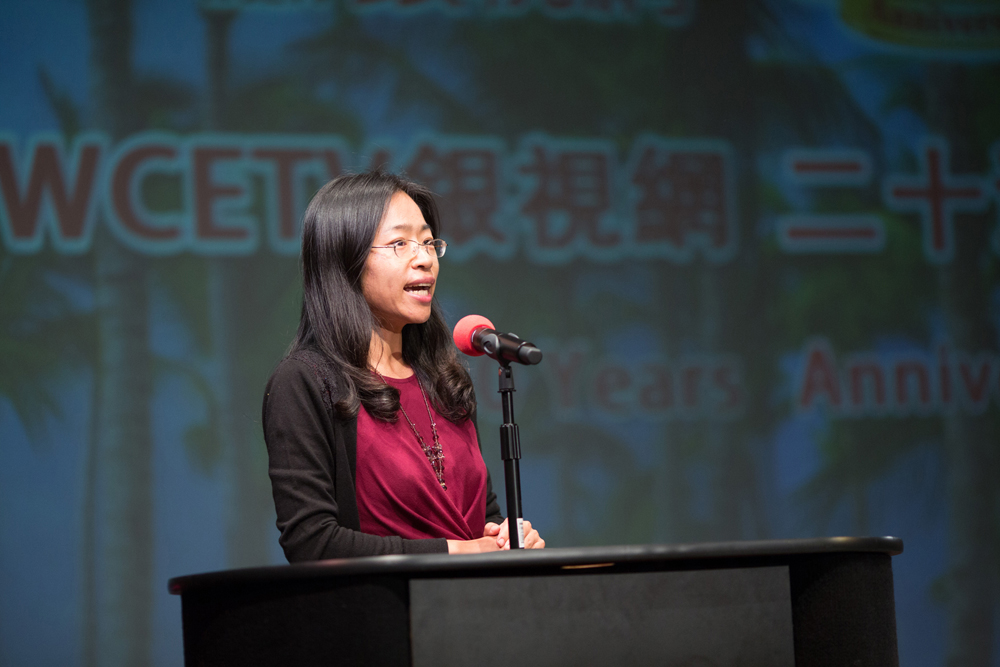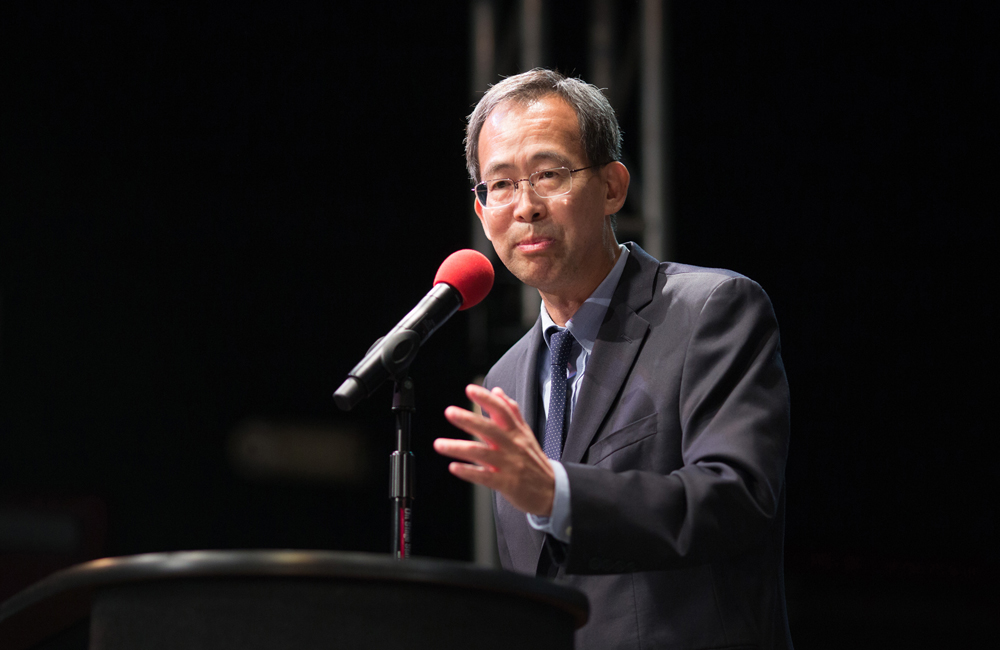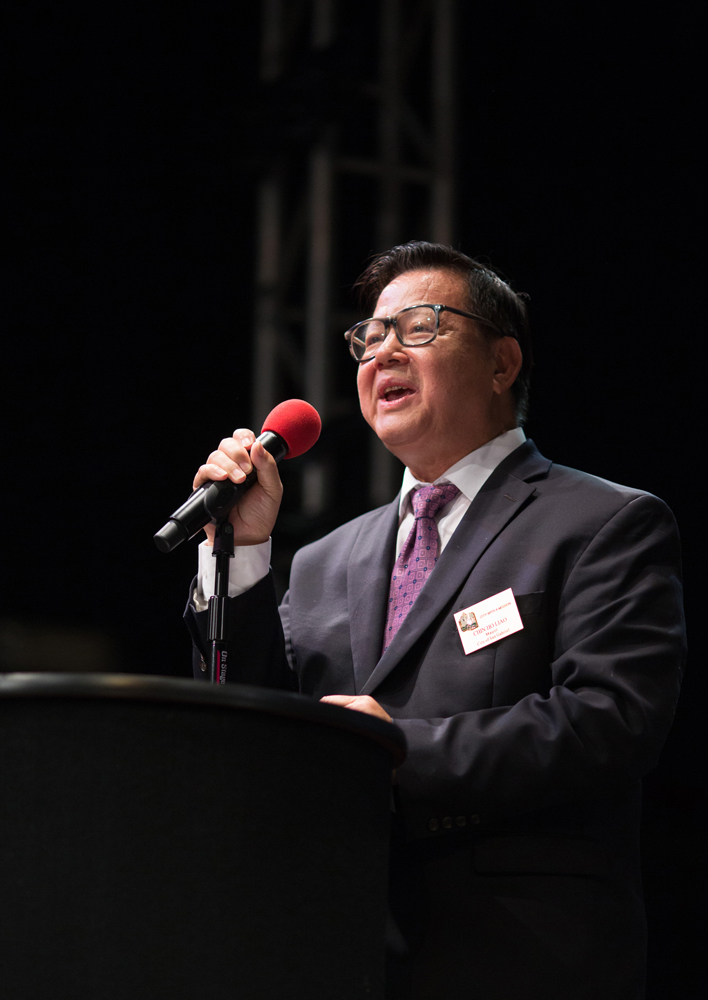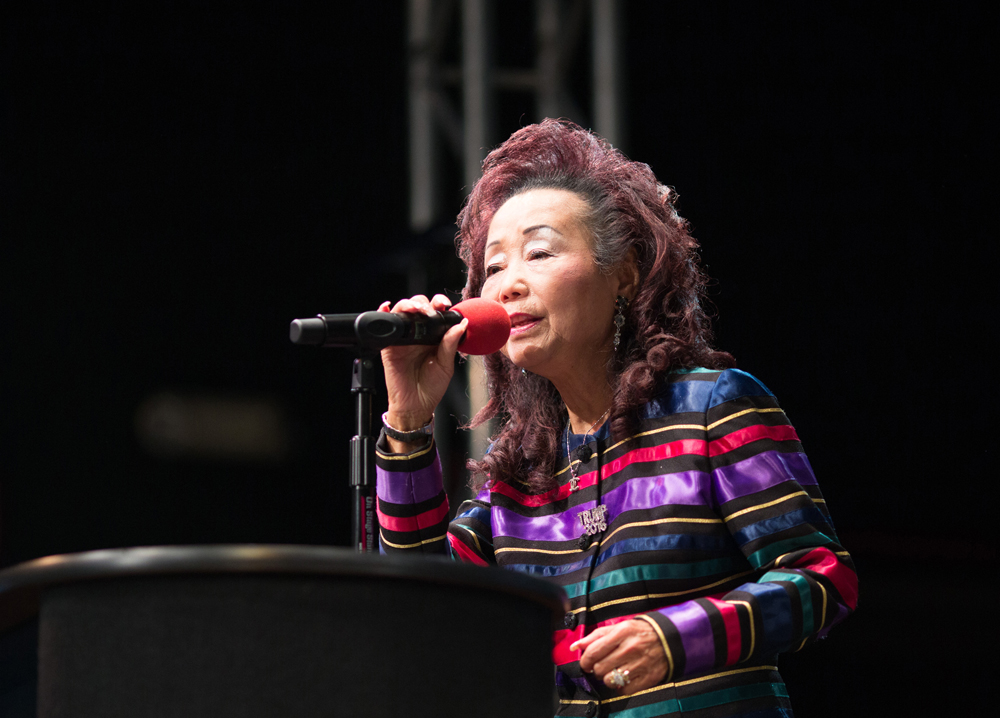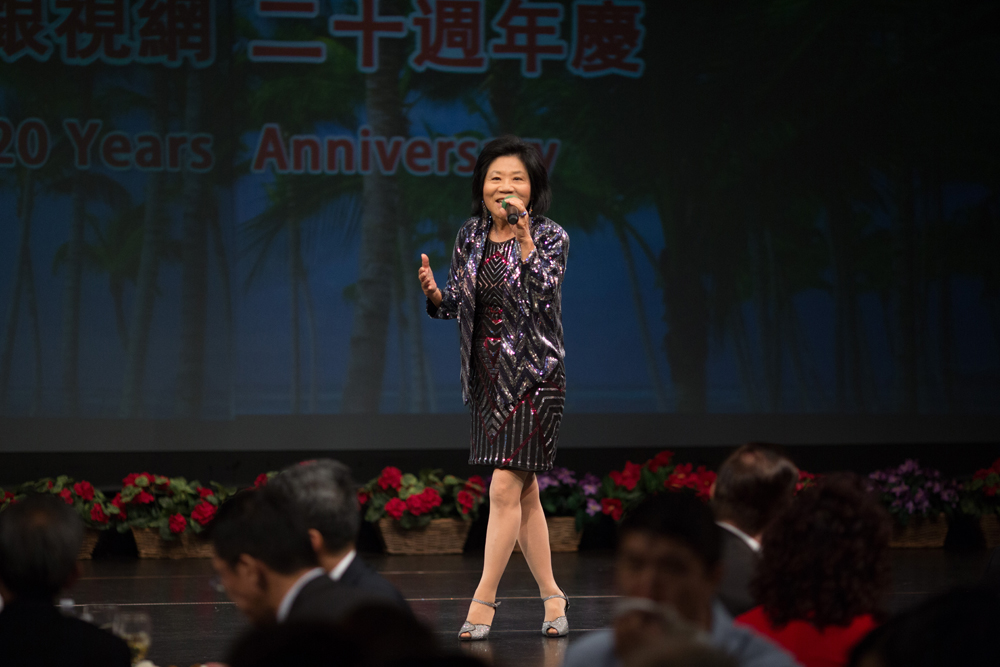 In addition, the speakers referenced to WCETV's past. Beginning first in 1996, we saw WCETV pushing the boundaries with digital television. Today, WCETV has again moved forward with new technologies such as Chromecast. 
銀視網是全球第一個通過網絡播放電視和廣播節目的互動媒體平台,從1996年成立以來,銀視網不斷進取,力爭走在電視傳播的最前沿。從28k寬頻電腦上播放,發展到手機,平板電腦,網絡雲端等多媒體方式收看的平台。為適應現代科技生活的不斷變化,WCETV銀視網於2014年發布了支持谷歌Chromecast的手機應用程序,也是華人媒體中首個研發並支持谷歌Chromecast技術的媒體,讓觀眾輕輕鬆鬆就能體驗到新媒體應用帶來的精彩視覺盛宴。
These past years have been a generous support from the people of United States, China, Hong Kong, and Taiwan. These key people, whether viewers or partners, have been essential to our success. We cannot express how thankful we are to be here today and with the help of people with as much love and success.
         作為走在技術尖端的多媒體網絡平台,銀視網匯集來自中、港、澳、台,和美國本地即時更新的新聞資訊和各類精彩娛樂節目,只要擁有電腦,手機,或者平板電腦,就可以在世界任何地方都可收看帶銀視網帶來的即時、免費的精彩節目。此外,銀視網在全美共有15個免費無線數字頻道,為全美觀眾提供瞬息萬變的新聞資訊和色彩繽紛的娛樂節目,旨在傳承中華文明,服務美國地區的觀眾;讓美國人了解中國的文化,經濟,建設和旅遊,並藉此透過中國的視角與世界交流,讓世界了解中國,讓中國走向世界。
         2016年是銀視網成立20週年之際,也是WCETV母公司朗思傳媒集團成立27週年的日子,集團與眾多權威媒體和國內外知名的企業集團有著長期和緊密的合作關係,包括微軟Microsoft、 Bloomberg、MSNBC TV、中央電視台、中國電影集團、中央人民廣播電台、中國國際廣播電台、廣東廣播電視台、遼寧電視台、黑龍江電視台、雲南電視台等幾十家具有影響力的企業和媒體。
Performing for our WCETV 20th anniversary, we had performers I AM JAZ GRAHAM and Cindy Lau to sing with great power. Jaz Graham sang with ferocity, strength, and passion. And Cindy Lau gave us a performance to remember with elegance.
          晚宴活動在表演者Jaz Graham的勁歌熱舞中拉開序幕,《嘜王爭霸》美西賽區冠軍選手林志高,好萊塢演員Cindy Lau為晚會獻唱贏得了現場嘉賓的一致讚賞,其他表演嘉賓帶來的旗袍秀,黑色誘惑禮服秀,西班牙舞等一個個精彩紛呈的節目,將活動氣氛推向了高潮。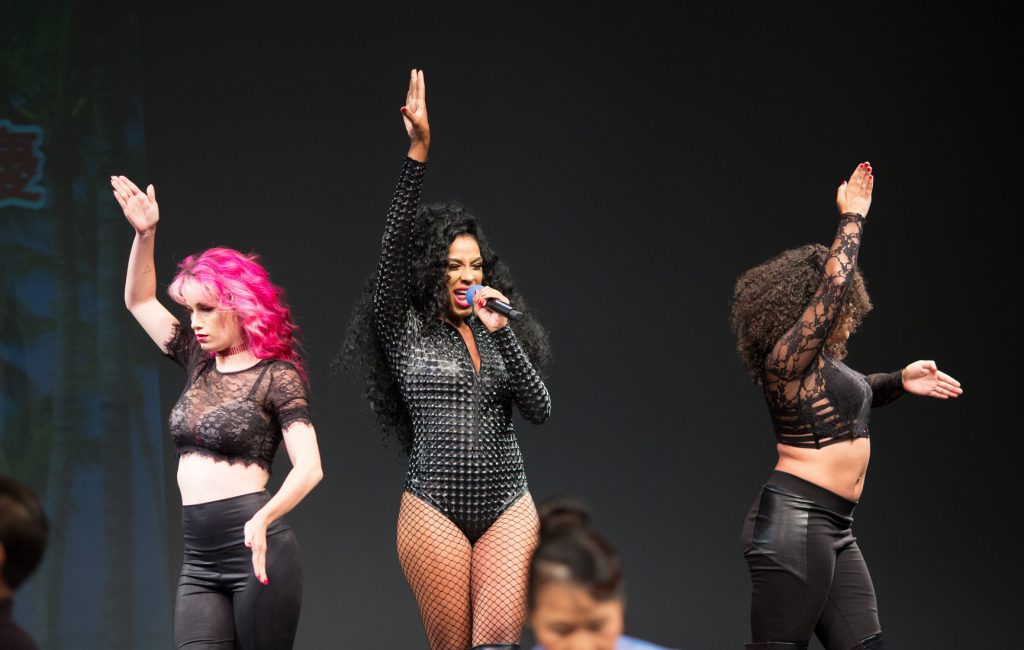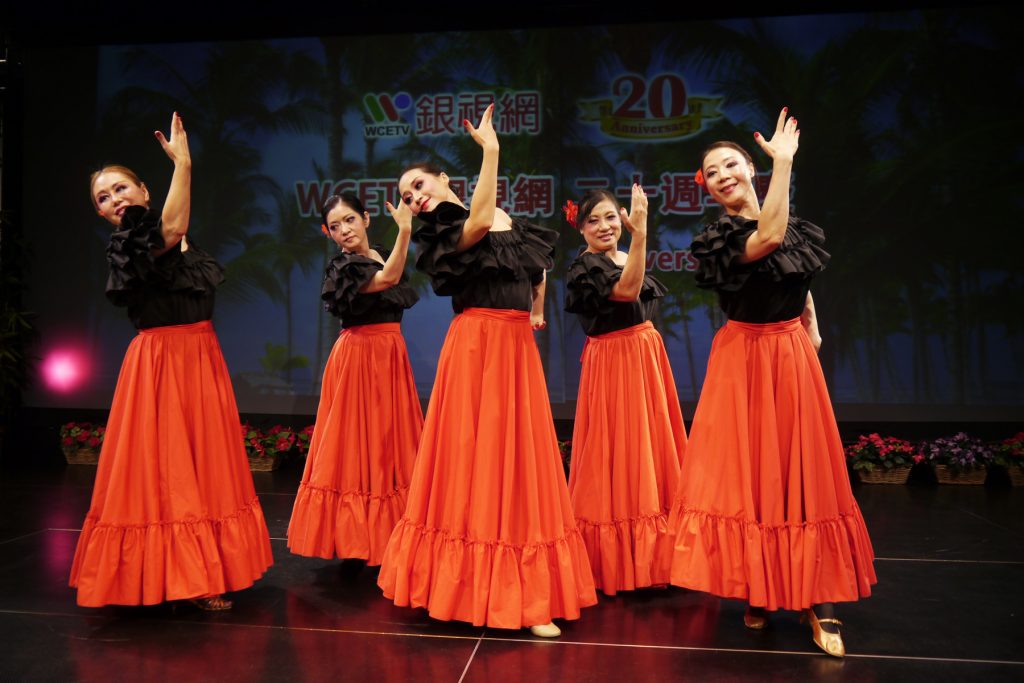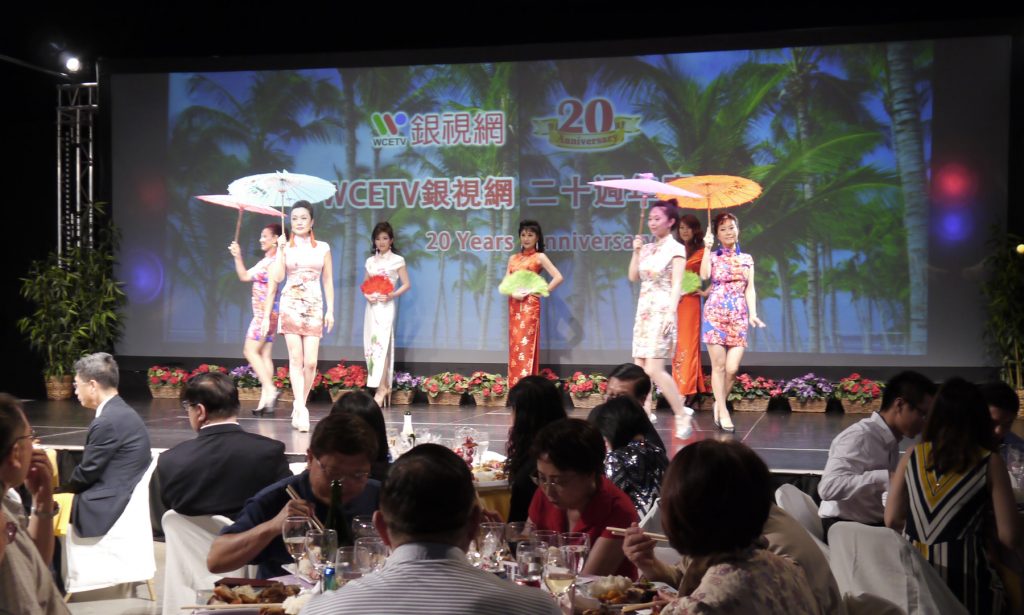 登錄www.wcetv.com, 收看银视网带来的及時、精彩、免費的缤纷节目。關注更多銀視網舉辦的活動,登錄http://rc-media.com 瞭解詳情。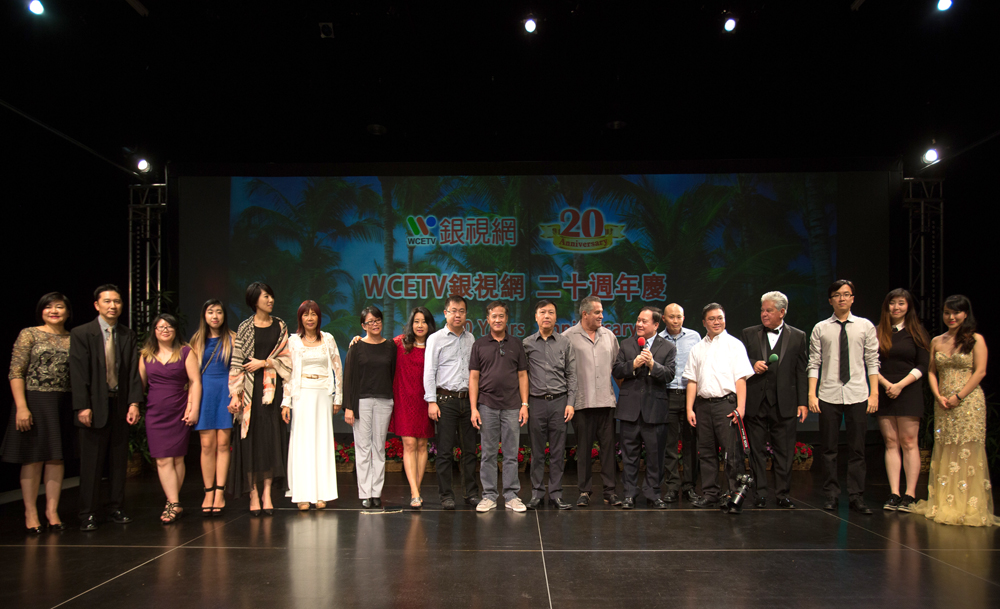 WCETV.ANNIVERSARY.8.20.16 by Senator Bob Huff.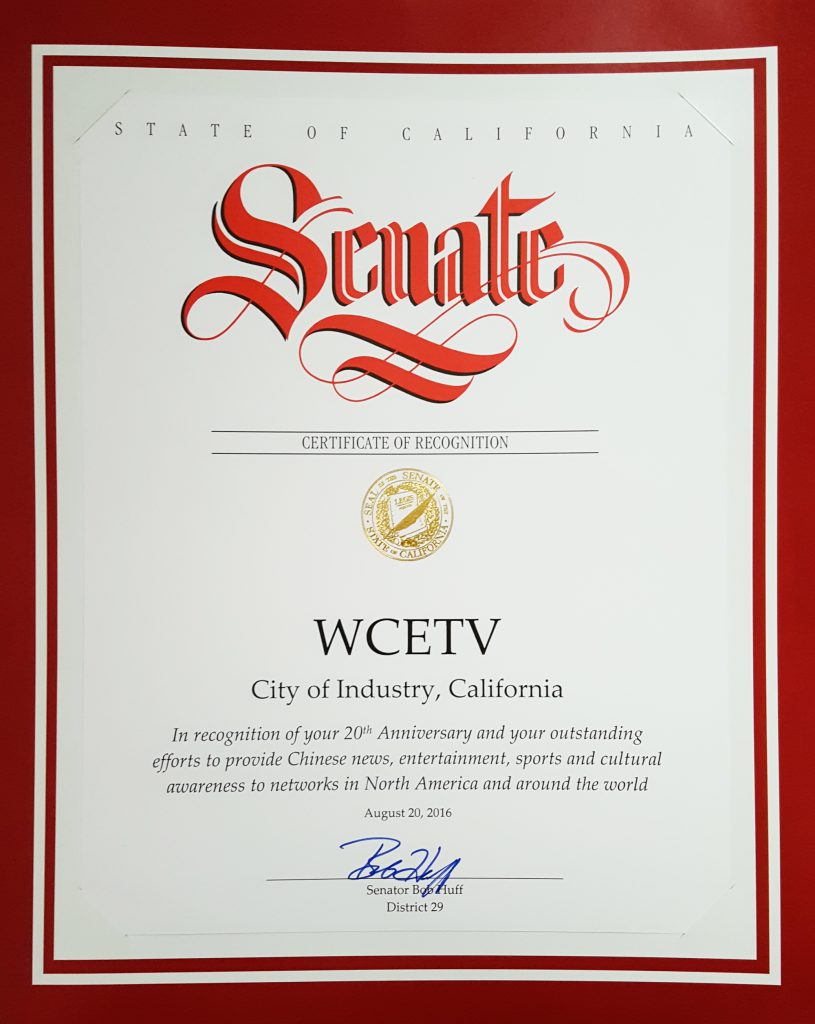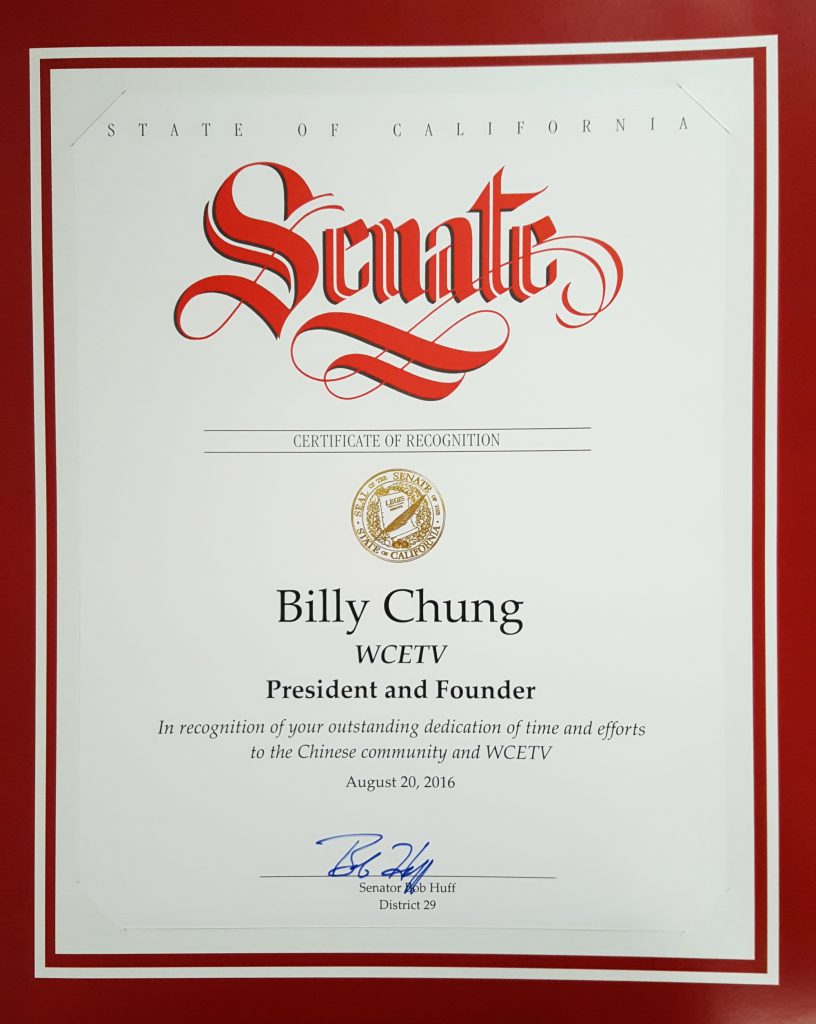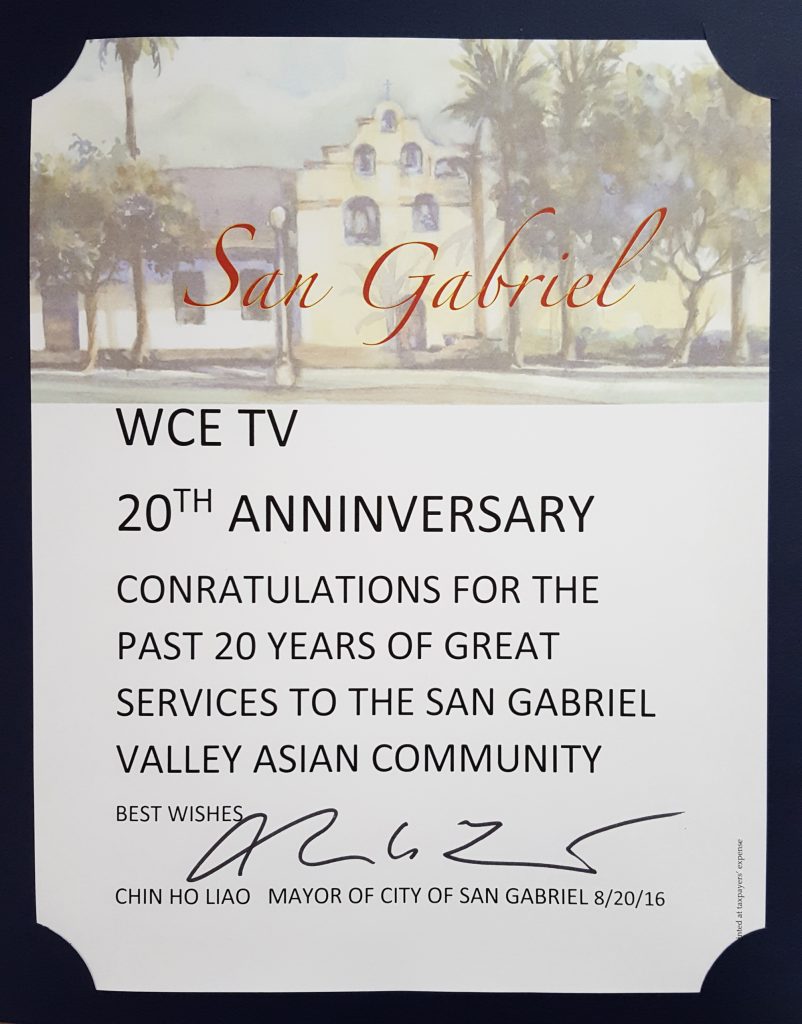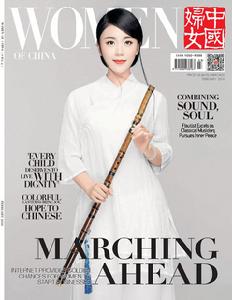 WCM Press Conference Recap
(WCM Press Conference Recap) Women of China is a magazine that unites women around the world. And the magazine does so by telling compelling stories of bold women and their life journey builds a bond between women who experience similar events. This magazine is meant to inspire and entertain.
《中國女性》美洲版首刊發行
《中國女性》美洲版首刊新聞發布會由中國婦女外文期刊社和WCETV銀視網共同主辦,於2016年7月29日上午在南海岸廣場(South Coast Plaza)VIP中心舉行。南海岸購物廣場代表Brian Chuan,銀視網總裁Billy Chung,洛杉磯傑出女性代表Mei Mei Huff,劉美芳律師等出席首刊發行新聞發佈會并在活動上發言。
(WCM Press Conference Recap) Because of the great support of the community, the press conference was located a local hub for many. Located at South Coast Plaza in Costa Mesa, California. CEO of R&C Media Group, Inc. Billy Chung released the first issue of Women of China Magazine here in the United States. As an effort to unite women across the globe, this magazine will include articles on culture, lifestyle, and more.
雜誌的發行收到了中國駐洛杉磯總領事館的賀信,并受到了洛杉磯各界僑團及政府官員的廣泛關注和高度評價。雜誌首刊發行活動上,Mei Mei Huff代表加州參議員Bob Huff向銀視網總裁Billy Chung頒發雜誌首刊發行祝賀狀。來自洛杉磯的各行各業的女性精英代表閱讀《中國女性》雜誌并熱烈交流,對雜誌的高品質內容讚不絕口,并紛紛表示期待下一期的雜誌發行。
On July 29, 2016, we were joined by South Coast Plaza Representative Brian Chuan and Representative for California State Senator Mei Mei Huff. They spoke on the outstanding representation of people in Women of China. They focused on the spiritual growth and shared life experiences.
作為一本服務於海外女性的國家級精品月刊,萬眾矚目的《中國女性》美洲版終於與美洲地區的讀者見面了,精美的中英雙語月刊將展示中國女性的價值觀念和生存狀態,全面深入地報導女性關注的各種問題。
《中國女性》海外版雜誌由中華全國婦女聯合會主管,中國婦女外文期刊社主辦和出版,發行遍及全世界130多個國家和地區。辦刊宗旨是"讓中國女性走向世界,讓世界了解中國女性"。《中國女性》美洲版由美國朗思傳媒集團獨家代理發行。
《中國女性》美洲版面向海外華人女性和熱愛中國文化的國際讀者,關注女性命運、溝通女性心靈、展示女性風采、服務女性需求。雜誌以"關注心靈成長,分享人生經歷,平衡家庭事業,收穫幸福人生"為核心內容,每期奉上最新的生活資訊、具有思考深度的專題策劃、引人入勝的人物故事,以及體現漢語魅力的名家美文。
Due to the growth of the populations of Chinese Americans in the United States, this magazine will seek to reach out to these women to spread the Chinese culture and lifestyle.
《中國女性》美洲版的面世,一直受到國內外各界人士的廣泛關注,雜誌精選的內容將給海內外讀者帶來豐富的閱讀體驗,也是中國女性走向世界和世界了解中國女性的橋樑和紐帶。 雜誌訂閱信息請至中國婦女英文網www.womenofchina.com 及http://RC-MediaGroup.com ,或致電626-912-3388。
Manage your subscription at Women of China website, www.womenofchina.com or at 626-912-3388 ext. 218.