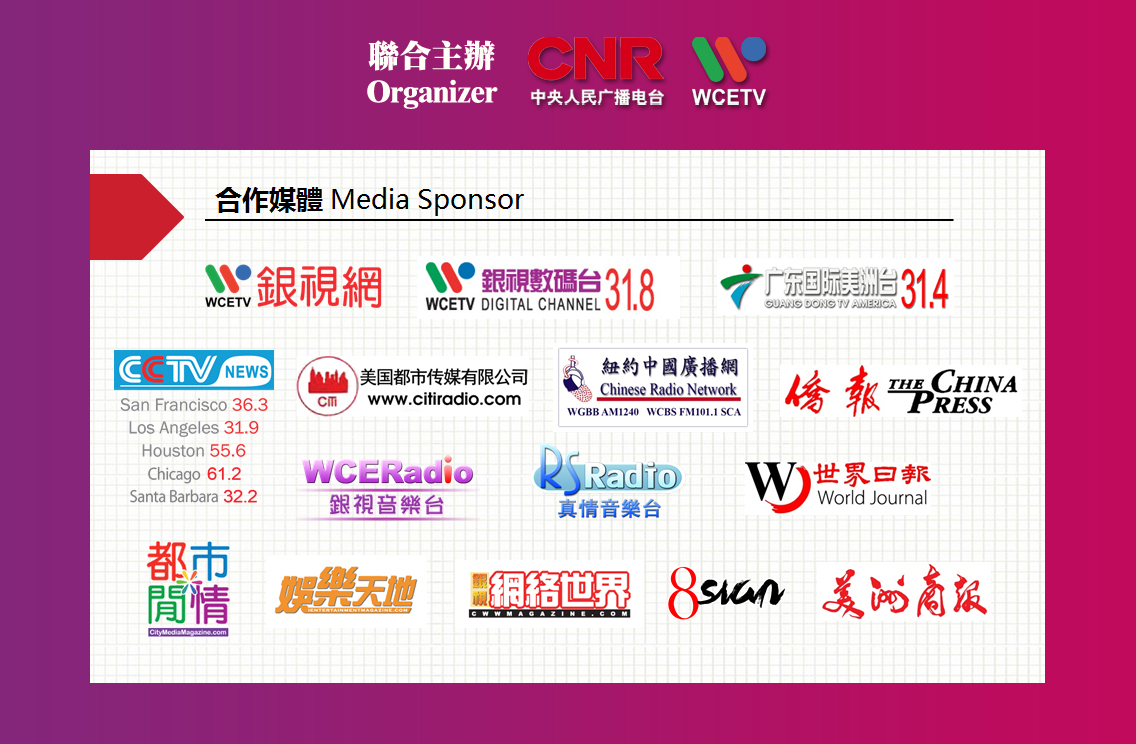 Global Chinese Network Host Competition American Region
全球華語網絡主播大賽美國賽區比賽章程
Download the Application: Host Competition Application 
or Fill in the Quick Google Form: Host Competition Application Form
Introduction
大賽簡介
Global Chinese Network Host Competition American Region is organized by China National Radio and WCETV. It aims at discovering talented people with innovative ideas, great attitude and unique characteristics, as well as building a stage to show their voices and achieve their dreams.
全球華語網絡主播大賽由中央人民廣播電台和WCETV美國銀視網聯合主辦,本次大賽注重發現和挖掘有態度、有創意、有特點、有關注的聲音達人,為其搭建展示聲音才華的舞台,助其實現聲音夢想!
Agenda
大赛日程
Registration Starts from October 29th, 2015; ends at December 31th, 2015
First Round Competition: from November 2015 to December 2015
Final Competition: January 9th, 2016
海選2015年10月29日啟動(海選報名截止日期為2015年12月31日)
初賽 2015年11月-2015年12月底
決賽 2016年1月9日
Requirements
參賽對象
Contestants, who speak Chinese Mandarin, have a nice voice and are willing to participate
無年齡、性別、國籍、地域、膚色限制,凡有態度、有創意、有特點、有關注的聲音達人均可參加。
How to attend the competition?
參賽辦法
1. Visit the official website www.rc-media.com, download the application form or fill in the google application and email back to contest@mail.wcetv.com, with 60s to 5mins audio or video clip MUST in Chinese Mandarin with application form. Registration deadline is December 31st, 2015.
2. The audio or video clip can be like a talk show, voice imitation, readings and others type that focuses on vocal performance.
1、參賽選手登陸大賽官網www.rc-media.com,下載報名表格并連同海選作品發送到官方指定郵箱:contest@mail.wcetv.com.報名截止時間為2015年12月31日
2、鑑於本大賽比賽網絡平台特性,故對參賽作品有如下要求:
1)音視頻作品使用普通話(國語)
2)音視頻作品時長:單條作品不得少過60秒,不超過5分鐘;
3)音視頻文件要求:保證畫質或音質清晰。
 3、大賽比賽內容以說為主。例如:脫口秀、配音模仿、相聲、朗誦等作品均可。
Awards
奖项设置
The final competition will give top 3 awards and individual awards for: "Best Network Host Award"; "Most Creative Award" and "Special Prize". American region's champion will have the opportunity to attend the final competition in China. 
Finalists who attend the final competition in China will receive:
1. Certificate
2. The audition opportunities to perform in TV drama or films
3. Top 15 finalists' contestants may get opportunities of work contracts from CNR's operators
本大賽決賽階段,將評出前三名和三個單項獎:最佳網絡主播獎、最具創意獎和評委特別獎,美國賽區冠軍將有機會參與中國總決賽。
參與中國總決賽選手將獲得:
1)三個全球華語網絡主播特別單元大獎及中央人民廣播電台賽事榮譽證書
2)獲得影視劇的出鏡機會
3)入圍前15強選手均可獲得簽約合作單位工作的機會
Notes
其它说明
1. All contestants must warrant that their entries are entirely their own work or are the co-author of the work. The participant is recognized with fully copyright of his/hers entry. The competition organizing committee does not take all kinds of legal problems due to copyright infringement. The organizing committee is not liable for legal disputes including portrait, reputation, privacy, copyright, trademark and others. The committee reserves the right to disqualify the contestant and recover the given awards and gifts, if there are legal disputes regarding the copyright infringement. 
2. The organizers and its partner have the right to display contestants' entries on their website, mobile or tablet app, radio and television channels.
3. The organizers of the Global Chinese Network Host Competition reserve the right of the final interpretation.   
1、全球华语网络主播大赛参赛作品必须由参赛者本人参与创作 (合作作者可联名参加),选手应确认拥有其作品的完全著作权,本大赛组委会不承担因版权问题而产生的各类法律责任,组委会不承担包括(不限于)肖像权、名誉权、隐私权、著作权、商标权等纠纷而产生的法律责任,其法律责任由参赛者本人承担。如参赛作品版权存在纠纷或争议,组委会保留取消其参赛资格及追回奖项奖品的权利。
2、组委会与合作组织有权无偿在网站、手机视频、广播、电视等媒体及公众场所展示播放選手參賽作品。
3、本章程最终解释权归属于全球华语网络主播大赛组委会所有。